19 Rohingyas arrested from Cox's Bazar camps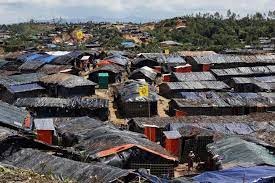 NEWS DESK
As many as 19 more Rohingyas were arrested in a special operation in the Rohingya camps of Cox's Bazar on Monday (Oct 31, 2022).
Members of the Armed Police Battalion (APBn) arrested them from various camps in Ukhiya in a raid from Sunday midnight to Monday morning.
APBn-8 Assistant Superintendent of Police (Ops and Media)Faruq Ahmed confirmed the matter to Bangla Tribune.
He said: "There are multiple cases of robbery, weapons and murder against eight of the arrestees. They have been handed over to Ukhiya police station. Besides, operations have been strengthened with increased patrols to keep the environment of the camp calm. On Saturday, 41 people were arrested."
APBn has been conducting a campaign titled Operation Root Out since October 28 in six camps to prevent murders and drugs in the Rohingya camps of Cox's Bazar.