3 Rohingya poets at Dhaka Lit Fest say they want to return home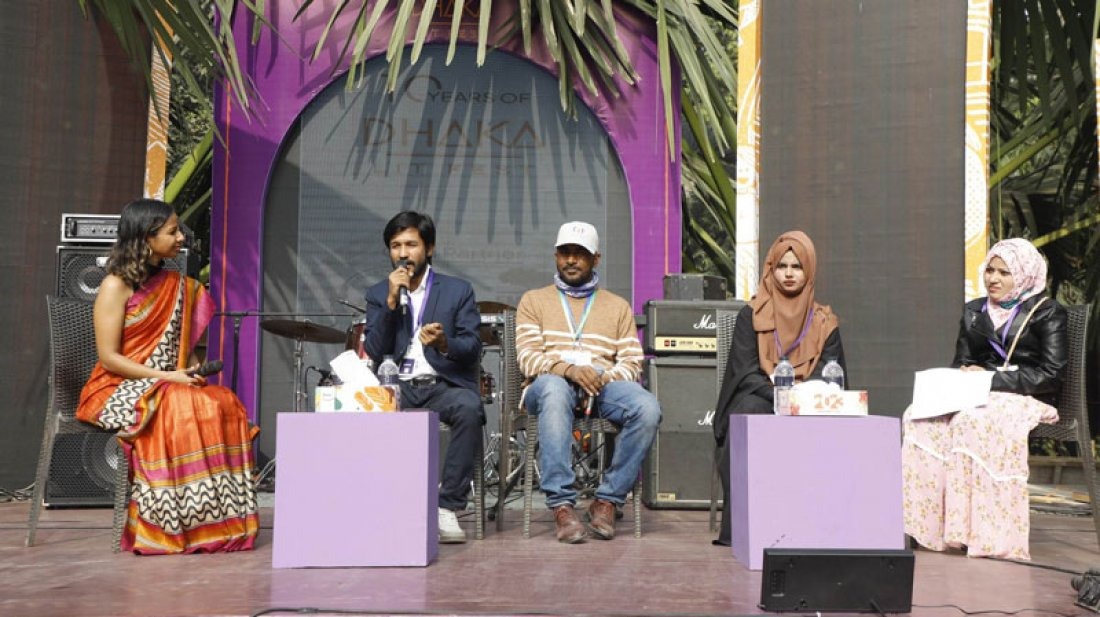 NEWS DESK
Attending the 10th edition of Dhaka Lit Fest, three Rohingya poets have expressed their desire to return home.
Rohingya poets and photographers Abdullah Habib, Shahida Win, and Ayala Akter expressed such a desire in a discussion session titled "Alternate Voices" at the Bardhoman building in the Bangla Academy on the second day of Dhaka Lit Fest on Friday (Jan 6, 2023).
Abdullah Habib delivered his speech in English during the session. Two others spoke in their mother tongue.
Concerning the Rohingya, the "most oppressed people in the present world", poet Abdullah Habib said: "I wanted to show our suffering to people through poetry."
"We want to regain the independence of Arakan. My community has inspired me a lot in this regard. In fact, to be honest, the circumstances and conditions of my country have made me a poet and a photographer," he added.
The poet also mentioned: "I had many dreams, but I know they may not be fulfilled. But, I didn't stop dreaming. We have only one dream now, that is to return to our country. It is very sad to see that even in this 20th century we are still not getting the opportunity to get higher education. Our only home is Myanmar, Arakan. We want to go back there."
He later recited a poem he had written titled "Give Me a Charge."
Rohingya poet Shahida Win said: "My father is a maulana (Islamic Scholar). I am inspired by Malala Yousafzai. I thought, if Malala can do it, why can't I? First I published a poem called 'The Great Girl'."
"When I was in Rakhine, I worked with Unicef. Through my poetry, I have also highlighted how I was in Arakan and how I am in Bangladesh now. I express my gratitude to the Bangladesh government."
She said that he is working to inform the world about the Rohingya memory culture.
Ayala Akter, who works with Rohingya women, said: "This is really a great achievement for me. I am glad to come to such a big event. I thank the Bangladesh government. I have worked with Rohingya women since before we were displaced from our homeland in 2017. Rohingya women can no longer live like all women. Most of the Rohingya are illiterate. Because of this, I was hindered in my studies in the first place."
She also said: "I used to be afraid to talk to people. I could not speak properly. The Rohingya population did not understand what a hospital was. I explained it to them. Although Bangladesh is not our country, we are getting many facilities here. But we want to go back to our native land. I want to move freely in my country, and I want to go to my country to work for Rohingya women."
Rohingya poets answered the audience's questions in the session.
Book lovers from across Bangladesh started gathering on the Bangla Academy premises braving the cold on Friday morning as the second day of the Dhaka Lit Fest went underway.
The day's programs kicked off with spiritual songs by Sardar Afsar Uddin.