US, Bangladesh discuss Rohingya crisis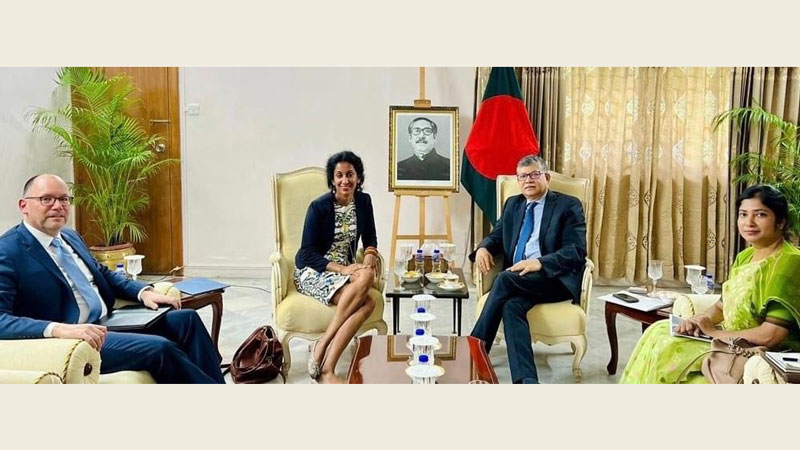 NEWS DESK
The Rohingya crisis stood out as a significant topic in the meeting between US Deputy Assistant Secretary Afreen Akhter and senior officials of Bangladesh's Foreign Ministry on Monday.
During the meeting with Foreign Secretary Masud Bin Momen and other officials of the ministry at the State Guest House Padma, the US outlined its concerns about the repatriation of Rohingyas.
Ms Afreen voiced the US administration's apprehensions about potential moves to repatriate Rohingyas either forcefully or without sustainability.
Bangladesh, in response, committed to a voluntary and sustainable repatriation process, assuring that the well-being of the Rohingyas remains a primary objective.
The upcoming elections and sanctions against the RAB (Rapid Action Battalion) also prominently featured in the meeting.
Ms Afreen, from the US Bureau of South and Central Asian Affairs, arrived in Dhaka the same day.
Foreign Minister Dr AK Abdul Momen, earlier in Colombo, briefed her about the preparations for the next national election.
She might also visit Cox's Bazar Rohingya camps during the visit.
Ms Afreen looks after issues in Nepal, Sri Lanka, Bangladesh, Bhutan, and the Maldives, as well as the Office of Security and Transnational Affairs.
She was the National Security and Foreign Affairs Adviser to US Senator Chris Van Hollen.
Ms Afreen Akhter earlier visited Dhaka in May this year.