UN Declaration on Indigenous People Adopted by general assembly resolution 61/295 on 13 September 2007. The general assembly, Guided by the purposes and principles of the c ...
Read More »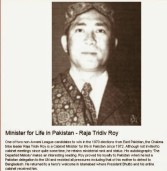 Sayed Ibn Rahmat :: The Bangladeshi liberation war is one of the longest liberation wars in the history of the world. On 26 March 1971, the war was started, when Pakistaniarmy lau ...
Read More »
Barrister Harun ur Rashid THE progressive development of international law through the restatement of existing rules or through the formulation of new rules by the Tribunals and C ...
Read More »