'ARSA' killed Mohib Ullah to stop Rohingya return: Chargesheet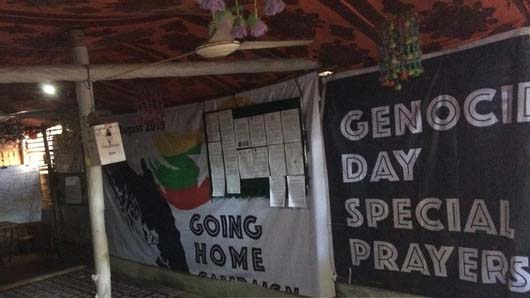 NEWS DESK
Police investigations have revealed that Mohammad Mohib Ullah was killed by the ARSA group as he was working to get the Rohingyas – who have taken shelter in Bangladesh – back to their home country, Myanmar.
ARSA (Arakan Republican Salvation Army) is an armed organization based in Myanmar's Rakhine.
Mohib Ullah, taking refuge in Bangladesh in 2017, founded Arakan Rohingya Society for Peace and Human Rights (ARSPH), which was working towards Rohingya's return to Myanmar.
After Mohib Ullah's murder last year, his family members were also suspicious of 'ARSA' involvement in the incident.
After nearly eight and a half months of investigation, police also echoed his family in the chargesheet filed on Monday.
Cox's Bazar Additional Superintendent of Police Rafiqul Islam said Cox's Bazar police submitted the chargesheet to the senior judicial magistrate's court on Monday noon.
And all 29 people charged in the case are Rohingyas, he said.
Public Prosecutor (PP) Faridul Alam said, "The charge sheet says that he (Mohib Ullah) was working on the Rohingya return. But it infuriated opponents of the Rohingya return and they planned to kill him.
"The alleged terrorist group named ARSA carried out the killing. His becoming popular with Rohingya people also infuriated opponents of the Rohingya return, including ARSA."
On the night of September 29, 2021, 48-year-old Rohingya leader Mohib Ullah was shot dead by a group of armed men at the 1-East Lambsia camp in Ukhiya.
His killing evoked reactions in the international arena. International human rights organisations, including the UN, UNHCR, called on the government to quickly investigate and bring the perpetrators to justice.
Fleeing the persecution in 2017, Mohib Ullah, along with his family came to Bangladesh and started residing in the D-7 block of the 1-East Lambsia Rohingya camp in Cox's Bazar's Ukhiya.
The number of Muslim Rohingya, who have fled to Bangladesh at different times after being persecuted in Myanmar's Rakhine state, has already crossed 1.1 million.
Although the Myanmar government signed an agreement with Bangladesh a few years ago to take them back, the start of the repatriation is still uncertain.