Arson in Mahalchhari's Joysen Para: True or false?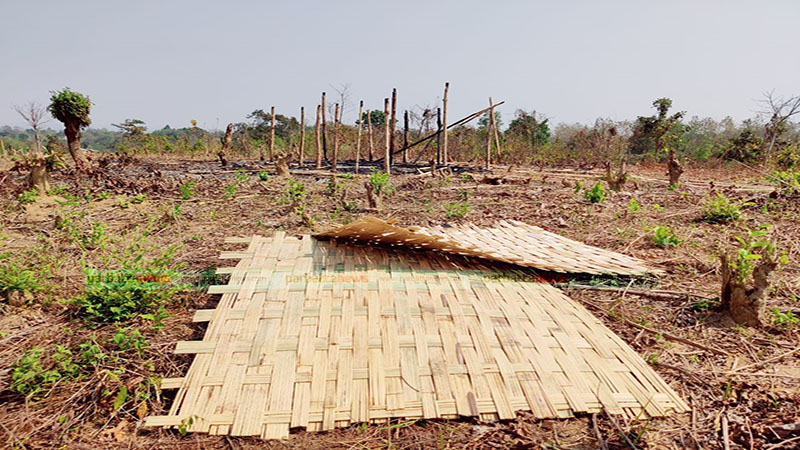 Mahalchhari Correspondent
Owners of the huts that were set on fire at Joysen Para in Khagrachhari's Mahalchhari on March 14 have not lodged any complaint with the police.
Conscious people in the hill tracts said a vested quarter is trying to make an issue of this arson instead of ensuring justice for the hut owners.
After the arson, this correspondent visited the scene and talked to local people and public representatives to get to the bottom of the incident.
Babu Sajai Marma, the chairman for No 4 Maischhari Union, among others, was present during the visit.
A tribal and a Bengali separately claim the ownership of the land housing the huts that were bunt down in the last week.
When they were asked of the land deeds, only the Bengali could show their land deeds.
Despite failing to show the land deed, the tribal claiming the ownership of the land, Jyotichandra Chakma, 65, said he has been paying tax on the land going by the government rules.
He, however, blamed nobody for the arson.
The Bengali who owns the land by deeds, Md Mohor Ali, said they were handed over the land in 1982. But they could not use the land as the government settled them in the cluster village due to the then untoward situation.
He also said some tribals along with some stalwarts tried to occupy the land. They also tortured Bengali land owners. "Later on February 28, we, the Bengali land owners turned to the upazila land commission for its solution."
But some tribal people tried to occupy the land by setting fire to the huts on the land and blaming it on the Bengalis, Ali said.
From what he learnt about the incident by visiting the scene, local Union Chairman Sajai Marma said some people serving the vested quarter might have set the huts on the fire in a bid to ruin the harmony between tribals and Bengalis.
Asked, the local executive magistrate and commissioner (land) said he would visit the arson scene and try to solve the land dispute by talking to both sides and maintain peace in the hill tracts.
Mahalchhari Police Station's Officer-in-Charge Harunur Rashid said none has filed any complaint with them.
He added that they are still looking at the incident with importance.