Bandarban peace committee meets KNF in person; next meeting in Dec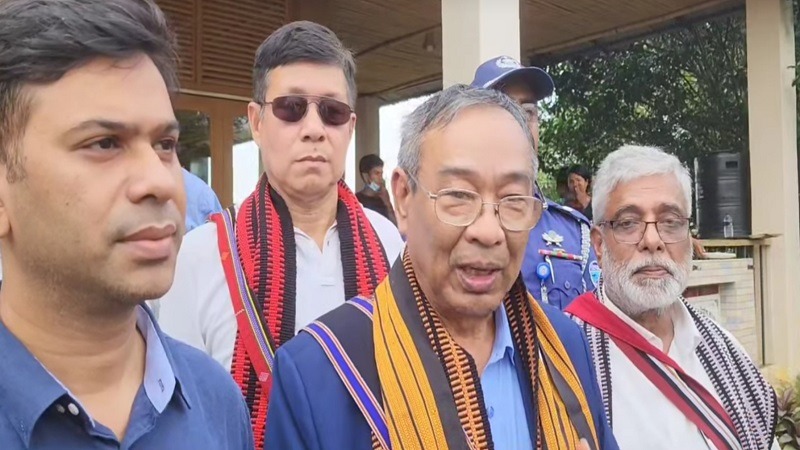 BANDARBAN CORRESPONDENT
A direct meeting between the Peace Establishment Committee, formed in Bandarban, to restore peace in the hill district, and the newly emerged armed outfit Kuki Chin National Front (KNF) Hills has concluded.
The meeting lasted for several hours at the community center in Munlaipara, 5 km from Ruma upazila headquarters, on Sunday morning (November 5).
After the meeting, Kyaw Shwe Hla, president of the Peace Establishment Committee and chairman of Bandarban Hill District Council, told reporters that the two sides had a "nice and sincere discussion." 
He said that the dialogue had resulted in a decision to hold a second meeting in mid-December. The meeting ended with both sides expressing sincerity.
Regarding the KNF's demands in the meeting, Kyshaihla said that the situation in the Bandarban Hills would improve in the future. 
He added that the two sides had agreed to maintain stability in the region.
Earlier, the KNF had held several video conference meetings with the Peace Committee, but this is the first time that the KNF has participated in a direct meeting.
Tight security arrangements were made across the area by members of the Army, BGB, Police, and Intelligence Agency around the meeting venue.
KNF began its operations in the hills in August of the previous year, resulting in the loss of 22 lives, including five army personnel, during clashes with security forces. 
Seventeen KNF members have been arrested. 
There are allegations of a newly emerging militant group called Jamaatul Ansar Fil Hiddal Sharqiya being associated with KNF, as well as claims that KNF was involved in training militants in exchange for money.
The activities of KNF have had a negative impact on the tourism industry in Bandarban, leading to restrictions on tourist travel in some upazilas of Bandarban.