Bandarban-Thanchi road damaged, communication cut off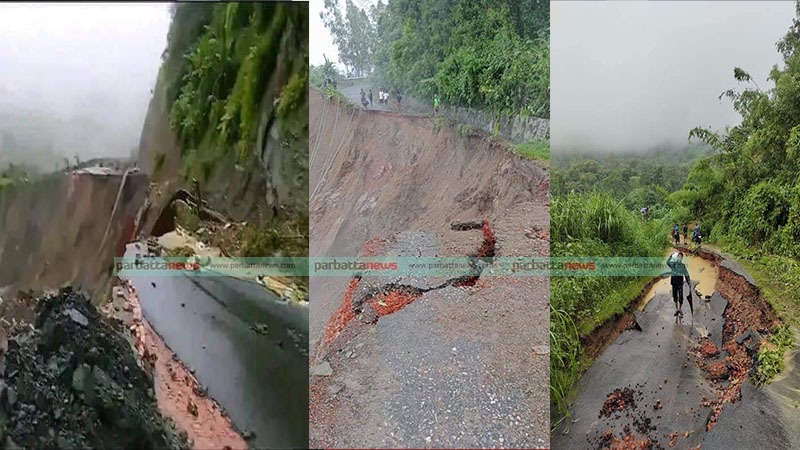 STAFF CORRESPONDENT, BANDARBAN
Approximately 4 kilometers of the Bandarban-Thanchi road has crumbled, resulting in the severance of communication between Thanchi upazila and the district headquarters.
During the persistent heavy rainfall since last Sunday, the road, stretching from Chimbuk to Jeevan Nagar, has collapsed and plunged into deep ditches at seven different locations.
Local residents have said that many in the neighborhood remained indoors, fearing for their lives.
With a slight reduction in rain on Wednesday afternoon, residents ventured outside their homes only to discover this devastating road accident, they said.
Karbari (village head) Menrum Mro of Prathui ward said that heavy rain caused the road to collapse at various points along the Bandarban-Thanchi road.
Numerous other smaller and larger road collapses have also transpired on this route. Thanchi has been effectively cut off from the Bandarban district headquarters since the road disintegration, he said.
Thanchi media worker Anupam Marma said that heavy rainfall led to road collapses in at least seven places, including Porabangla, Kalo Pahar, Jeevan Nagar, Sheela Jhiri, and Vidyamani Para, along the Chisbuk to Jeevan Nagar route.
The cumulative extent of the road affected amounts to 4 km, according to him.
Thanchi Upazila Nirbahi Officer Abul Mansur confirmed the incident's veracity, saying that the Bandarban-Thanchi road suffered collapses in several locations, spanning from Chimbuk to Jiban Nagar.
Due to heavy rains and subsequent flooding, the Bandarban-Thanchi road has been closed to traffic since last Sunday, he said.
The road has sustained significant damage, rendering it impassable for vehicles, according to Mansur.
Even though floodwaters receded on Wednesday (August 9), road damage persisted, making vehicular travel impossible, the Thanchi UNO  noted.