Bangladesh Army's heroic efforts in hills: a lifeline amidst calamities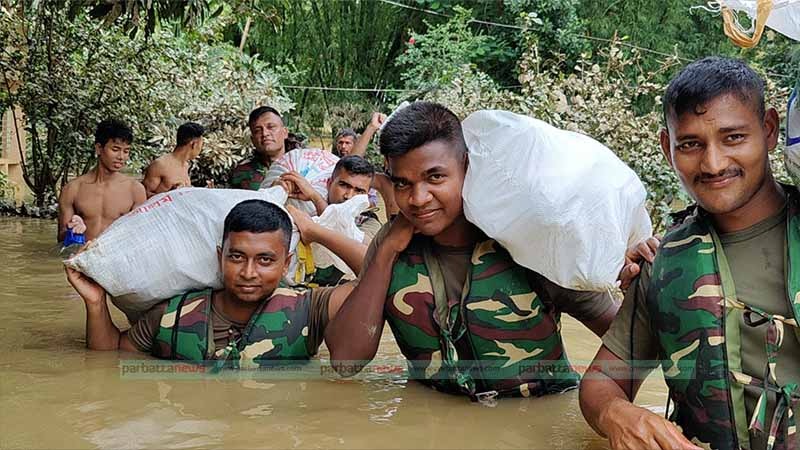 PARBATTA NEWS REPORT
Heavy rains have pounded the Chittagong Hill Tracts and Cox's Bazar regions since August 3, continuing for a week, resulting in a series of natural disasters. The torrential downpours triggered floods, landslides, and widespread devastation. Low-lying areas were inundated, bridges and culverts collapsed, and roads became submerged, cutting off communication in many towns. Frequent small and medium-sized landslides wreaked havoc, destroying homes and causing casualties. Thousands of people found themselves trapped in waterlogged areas, struggling without end. Power supply lines were severed, leaving some areas in darkness, while the affected communities faced food and clean water shortages.
In response to this dire situation, Bangladesh Army swiftly extended a helping hand to rescue the victims. On the orders of Army Chief General SM Shafiuddin Ahmed, army personnel mobilized to assist affected areas with unwavering dedication. They have been working tirelessly, day and night, to evacuate people in landslide-prone zones, to transport those stranded in waterlogged areas to shelters, to provide food, clean water, medical aid, and essential medicines to those cut off by submerged roads, to repair damaged bridges and culverts, and to restore communication lines.
The heavy rains have led to unfortunate fatalities, with 20 people losing their lives in Cox's Bazar, 10 in Bandarban, and 6 in Rangamati due to drowning and landslides. Many homes were swept away, and vast swaths of land in the region were submerged. Several areas remain isolated due to waterlogged and damaged roads. Ruma and Thanchi upazilas in Bandarban have been particularly cut off from road communication until August 29, enduring three weeks without electricity. The roads connecting Bandarban-Ruma and Bandarban-Thanchi were rendered impassable due to heavy rains and landslides in early August. Army units are working diligently to repair these roads wherever possible, creating alternative routes where repairs are unfeasible. The Keranihat-Bandarban road, heavily flooded and covered in mud, has been cleared by army members to reestablish road communication with the district.
Rashedul Alam Khan, Assistant Director of Inter-Services Public Relations (ISPR), said on Tuesday, August 8, that the army has been deployed to manage the flood and landslide crises in Chittagong and Bandarban. Deployed army personnel continue to conduct rescue operations, emergency relief efforts, to provide medical assistance, and offer comprehensive relief measures to address the flood situation.
Furthermore, as of August 21, one platoon from each of the Bandarban, Ruma, and Alikadam army zones has been tirelessly engaged around the clock to address the flood situation. Similarly, one platoon from each of the BGB Zones is operating continuously in Naikshyongchari and Bolipara. The army has distributed 251,700 liters of drinking water, dry food to 2,159 families, and cooked meals to 842 people in Bandarban Sadar Upazila. Across Bandarban Sadar, Ruma, Bolipara, Alikadam, and Naikshyongchari, the army has provided free medical care and medication to 3,851 people. Additionally, 15 tents were given to those affected in Lama, and 35 sets of books were provided to HSC candidates whose books were destroyed. The army is actively repairing flood and landslide-damaged roads with the assistance of the 7 ECB, 20 ECB, and 26 ECB units.
In Cox's Bazar district and in Lohagra and Satkania upazilas of Chittagong, army personnel were deployed to aid flood victims. They are rescuing stranded people and distributing food, clean water, and medical assistance to those affected. The army's rescue team is working tirelessly to mitigate the disaster in the Rohingya camps.
The army has also distributed relief to the flood-affected people of Rangamati's Kaptai and Rajasthan. In areas where landslides blocked roads, such as Baghaichhari-Dighinala Road, the army removed the debris during heavy rains, restoring communication. Army personnel have successfully rescued hundreds of tourists stranded in Sajek due to heavy rain-induced floods.
Khagrachari district's Dighinala upazila has been significantly impacted by heavy rains. There, army members distributed essential food items, provided free medical treatment and medication to those marooned in waterlogged areas, and carried out various post-flood rescue and relief activities, including medical and rehabilitation assistance.
After inspecting a training programme at Cox's Bazar's Ramu Cantonment on Monday, August 21, Chief of Army Staff General Shafiuddin Ahmed encouraged soldiers to stay prepared through rigorous training to safeguard the country's independence and sovereignty.
"Besides, during any natural disaster, we should work alongside the people of the country," he also stressed.