Bangladesh hopes Japan will step up efforts to resolve Rohingya crisis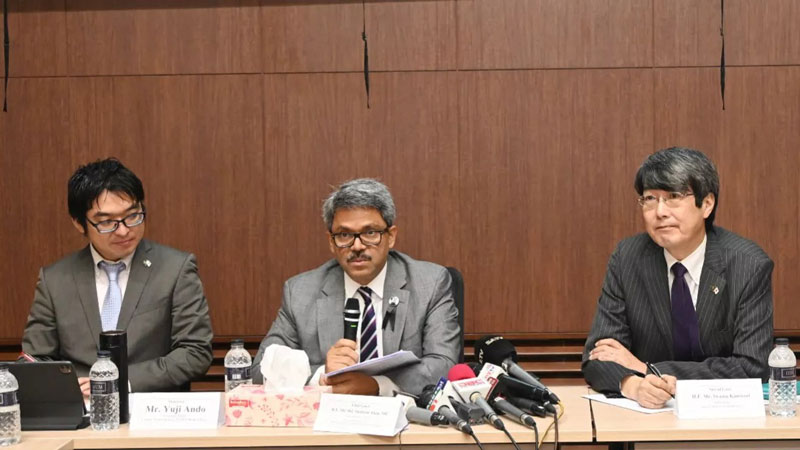 NEWS DESK
Appreciating Japan's continued assistance in infrastructure development, Bangladesh has sought Japan's support in resolving the Rohingya crisis considering its good relations with Myanmar.
"On behalf of the people and the government of Bangladesh, we hope that Japan will step up efforts to help resolve the Rohingya crisis," State Minister for Foreign Affairs Shahriar Alam said while speaking at a programme on Bangladesh-Japan relations as the chief guest.
Japanese Ambassador to Bangladesh Iwama Kiminori spoke as special guest and FBCCI President Mahbubul Alam spoke as the guest of honour at the discussion held at Japanese Embassy, marking the official launch of the Pan-Asia Research Institute (PARI).
At the event, Shahriar Alam mentioned the investment, presence of a growing number of Japanese companies and cooperation in the Matarbari project.
"We see these brilliant infrastructure projects supported by Japan as solutions to many of the problems the country and its people have been facing," he said.
Earlier, the government of Bangladesh said a drastic reduction in humanitarian assistance for the persecuted Rohingya population, which is growing with around 30,000 newborns every year in the camps, is compounding the crisis.
Further delay to commence safe, voluntary and sustainable repatriation and shortage of humanitarian support may put the entire region at risk, the Ministry of Foreign Affairs had said.
The socio-economic, demographic and environmental cost of sheltering more than 1.2 million Rohingyas for such a long time is pushing Bangladesh to the limit, the ministry said.
These forcibly displaced people have aspirations and rights to return to their homeland in a safe and sustainable manner.
The state minister said the achievements of Prime Minister Sheikh Hasina are absolutely phenomenal and such achievements come with some challenges.
"Bangladesh needs to uphold the high aspirations of the people. We have delivered so much and people will be expecting us to do even more to double what we have achieved over the last 50 years," he said.
"It is not going to be easy. Only friends like Japan can help us to achieve that goal," Shahriar Alam said.
He said Bangladesh and Japan will surely work collectively and walk together on the journey for achieving a mutually beneficial future for both countries and their peoples.
The state minister said Bangladesh and Japan have presently more than just a G2G (government-to-government) partnership.
"It is growing every passing day, and today it includes C2C (country-to-country), P2P (people-to-people) and B2B (business-to-business) ties. Most importantly, P2P partnership is playing a vital role," he said.
From here, the newly-launched think tank PARI can significantly contribute to the improvement of the Japan-Bangladesh relationship, he hoped.
PARI, a Japan-based multi-modal Asia and Pacific-focused think tank, was launched in Bangladesh through the roundtable discussion styled 'Materialising Japan-Bangladesh Strategic Partnership: Diplomatic, Economic and People-to-People Relations'.
PARI carries out multi-stakeholder research and analytical works on a whole gamut of socio-political, economic, business interests and bilateral as well as multilateral diplomatic issues with particular importance to the changing geopolitical reality of the pan-Asia region.