Bangladesh PM seeks UN support to relocate Rohingyas to Bhashanchar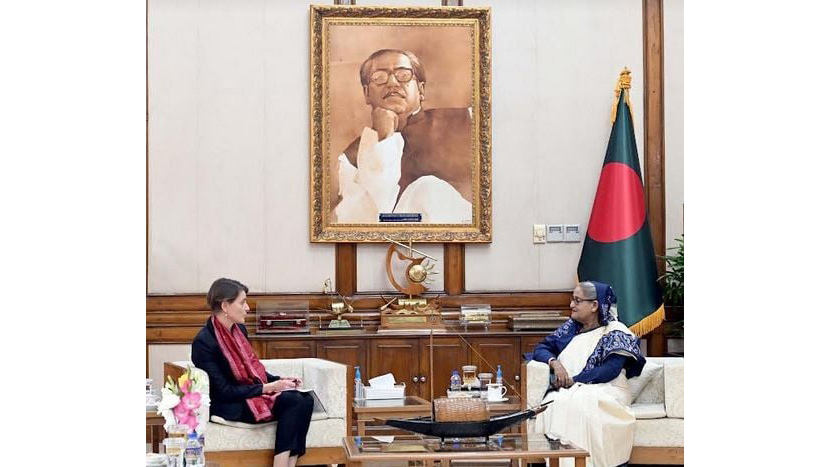 Prime Minister Sheikh Hasina today (Feb 20) sought United Nations (UN) assistance to relocate the forcibly displaced Myanmar nationals to the well-developed Bhashanchar as UN Resident Coordinator to Bangladesh Gwyn Lewis paid a courtesy call on her.
"As there is no certainty of sending Rohingyas back soon to their country, they should be relocated to the well-organised Bhashanchar and the UN can cooperate to this end," PM's Speechwriter M Nazrul Islam quoted her as saying.
Nazrul Islam briefed reporters after the call on at PM's official Ganabhaban residence in Dhaka  this morning.
The prime minister said the Rohingyas are currently living a congested life in their camps in Cox's Bazar.
"If the Rohingyas can be relocated to the Bhashanchar, where accommodations for over one lakh people have been created with livelihoods, they can lead a dignified life in a livable atmosphere," she said.
In the Bhashanchar, there are arrangements for better livelihoods and education for the children of the Rohingyas with their native language, she added.
The prime minister said they have sheltered the huge number of Rohingyas in Bangladesh on the humanitarian ground, but they are now becoming a massive burden for Bangladesh.
She thanked the UN for extending cooperation to Bangladesh since Rohingyas took shelter here and hoped that they will continue the support.
During the meeting, Sheikh Hasina said the Rohingyas are creating social problem in Cox's Bazar as many of them are engaged in drug, arms and human trafficking, adding they (Rohingyas) are also involved in internal conflicts and militancy.
The premier said the Rohingyas has become majority in Cox's Bazar outnumbering the locals.
The UN resident coordinator highly praised Bangladesh's progress in achieving MDGs and its work to attain the SDGs alongside ensuring women empowerment and girls' education under the dynamic leadership of Sheikh Hasina.
Gwyn Lewis said Bangladesh has to overcome some challenges that include climate change and ensure education and healthcare services to girls and women in the post Covid-19 situation.
She said: "The UN had stood by Bangladesh in the past and will remain its side in future".
About measures to fight climate change, the prime minister said they have earlier taken adaptation and mitigation programme for making Bangladesh climate resilient.
She said Bangladesh is building climate resilient houses at the coastal belts and creating green belts as measures to fight the climate change impacts.
The prime minister said Bangladesh established Climate Trust Fund with its own finance.
She however expressed dissatisfaction over not fulfilling the climate promises by rich countries.
"The rich countries are giving promises, but they are not complying with those," she said.
The premier said her government has continued its efforts to implement the SDGs overcoming the challenges steamed from the Covid-19 pandemic and Russia-Ukraine war.
She said she was lucky as she had got scope to give input to the MDG and SDG during their formulation.
About her government's measures to ensure education for the children, she said they are giving stipends, scholarships, free text books to the students and are going to introduce school feeding programme.
In this connection, she said Father of the Nation Bangabandhu Sheikh Mujibur Rahman made the women education free up to class eight.
The prime minister also said that her government has politically empowered women by creating vice-chairman and councillor posts at the local government elections.
She said Bangabandhu had amended the laws of Pakistani period to pave the way of recruiting women in judiciary and other sections.
The prime minister said, "If we can generate employment for women, the girls will be inspired to education and the parents will be encouraged to send their daughters to schools."
About child labour in Bangladesh, she said there is no child labour in Bangladesh in formal sectors.
She, as well, reiterated her commitment not to leave a single person landless and homeless as her government has been giving house to every landless and homeless people free of cost.
PM's Principal Secretary Md Tofazzel Hossain Miah was present.