BGB on highest alert along border with Myanmar: DG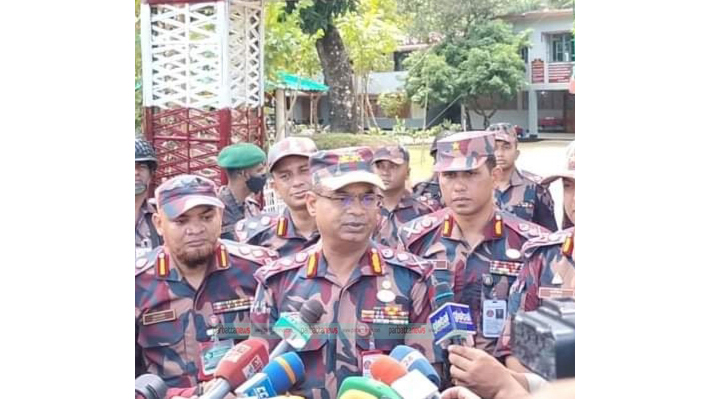 NAIKHONGCHHARI CORRESPONDENT, BAISHARI CORRESPONDENT
The Border Guard Bangladesh, or BGB, has been put on maximum alert along the border with Myanmar, BGB Director General Major General Shakil Ahmed has said.
"Along the border, the BGB is on the highest level of alert. The BGB has a record of every bullet fired from the other side of the border," he told reporters on Monday (Oct 10, 2022).
He was speaking to reporters after visiting different parts of Ghumdhum Union Parishad under Naikhongchhari in Bangladesh's Bandarban bordering Myanmar at 2:00pm on Monday (Oct 10, 2022).
"Every incident, including the use of mortars and the violation of airspace, was met with immediate protests. Against such protests, they sent diplomatic responses.
"In a tense situation, efforts are being made to hold a flag meeting with Myanmar's border guarding force BGP. Already contact has been made.
"There will soon take place a flag meeting at the battalion level. Everything will be presented there, directly."
Lieutenant Colonel Mohammad Mehedi Hossain Kabir, commander of BGB's Cox's Bazar 34 Battalion, however, said the visit to the border by the BGB DG was part of regular activities.
Sounds of countless mortar and artillery bombs exploding in Myanmar shook border parts of Bangladesh in Bandarban's Ghumdhum from 4:00am ton10:00am on Monday, triggering panic among Bangladeshis.
Bangladesh authorities have asked local Bangladeshis not to go near the border against this backdrop.
Myanmar security forces and Arakan Army, a Myanmar insurgent group, have been clashing in the State of Rakhine near Bangladesh border for about two months.
During the clash, quite a number of bullets and mortar shells have landed in Bangladesh injuring even some Bangladeshis.
A Rohingya child has also been killed and five others have been injured at the the zero line Rohingya camp near Bangladesh's Ghumdhum .
Myanmar's jet fighter helicopters have also violated the airspace several times.
Against this backdrop, Bangladesh authorities have immediately lodged protests against Myanmar by summoning the Myanmar envoy in Dhaka a few times.