China is working silently over Rohingya issue: Envoy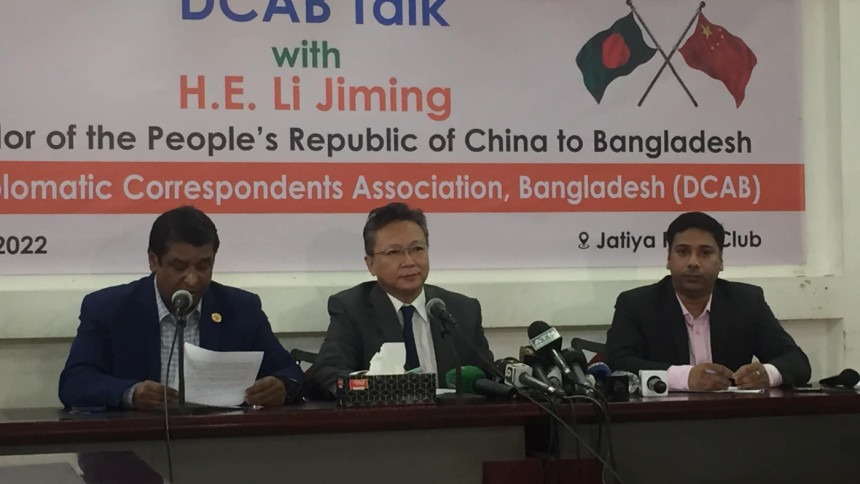 NEWS DESK
China wants a "peaceful and stable" Bangladesh for continuing the pace of development, said Chinese Ambassador Li Jiming today (October 26, 2022).
"Peace and stability are preconditions for development. Any problem, therefore, should be solved in a democratic and peaceful way," he said at the DCAB Talk at Jatiya Press Club.
He said China considers Bangladesh a "very good strategic partner" and continues to improve its relations with it.
Not only that, Li Jiming said, China does not want any arms race over the Bay of Bengal region that has become a Centre of global focus.
"Even, we don't have any strategic rivalry with India. If we work together, many of the regional problems will be solved," the Chinese envoy said.
He said he visited India many times and there are similarities in the ways of life and philosophies of both the countries, as well as that of Bangladesh.
Asked why China voted for Myanmar on the issue of Myanmar when its forces oppressed and killed the Myanmar civilians including the Rohingyas, Li Jiming said China does not think that western pressure will help in any way in solving the Myanmar problem.
"The problem has to be solved bilaterally. We have an Asian way of solving it. The Europeans or the American way will not help," he added.
Asked then why the Rohingya issue is not being solved, Li Jiming said that China is seriously and sincerely working towards that end.
"We are working silently. Surely, it will have its impacts," he said.
After Bangladesh sought Chinese support when there were border rules violations in the Myanmar-Bangladesh border recently, the Chinese ambassador in Myanmar called on the Myanmar authorities and conveyed the message, he added.
The Myanmar side said they will repatriate the Rohingyas and are preparing. But the problem now is the fighting between the armed groups and the military in Rakhine state. Therefore, Bangladesh needs to wait for now.
Asked if China can help Bangladesh in any way regarding the energy crisis, Li Jiming said his country itself is an energy-importing country and faces problems.
However, if Bangladesh is in any emergency situation, China will not sit idle, he added.
Asked about Bangladesh's concerns over declining foreign currency reserves, he said the problem is created by the Ukraine-Russia war and sanctions.
But, currency swaps between Bangladesh and China and Bangladesh's increasing export to China or elsewhere can be the ways out, the diplomat said.
DCAB President Rezaul Karim Lotus and General Secretary AKM Moinuddin also spoke.