Civil society orgs urge Track II diplomacy for Rohingya repatriation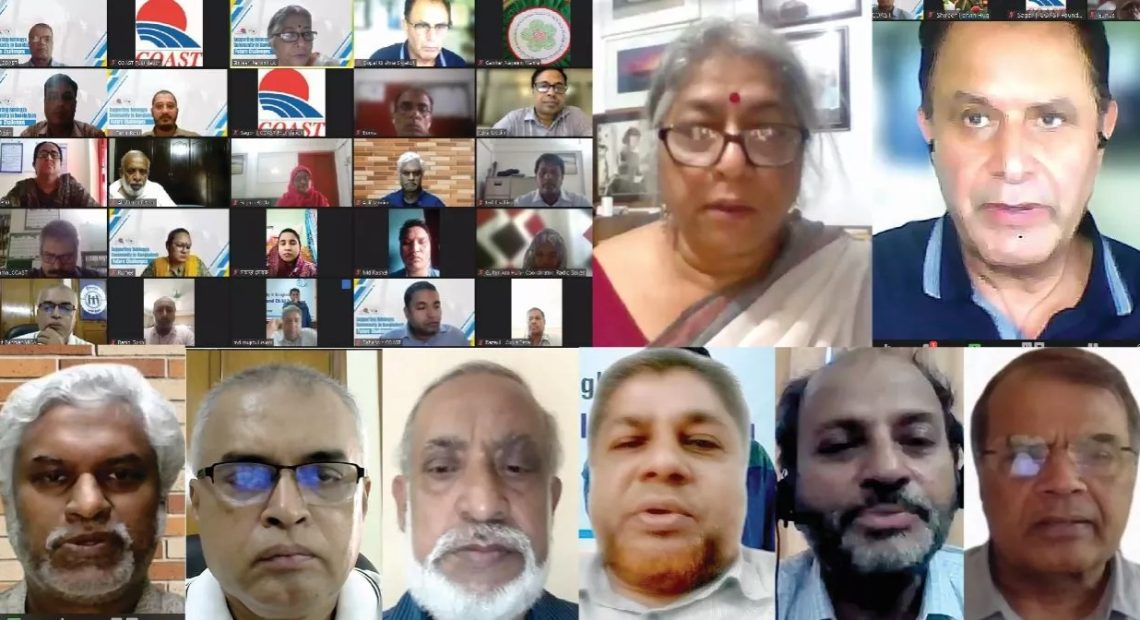 Right based civil society leaders urged for track two diplomacy with civil society participation for expediting the repatriation efforts of the Rohingya community.
They urged international community and developed countries for meaningful dialogue with Myanmar government, as well as participatory dialogue with host and refugee community in Cox's Bazar for containing terrorism, rather than considering restrictive measures.
They were speaking at a webinar on Monday organized by CCNF, a Cox's Bazar-based network of NGOs, in cooperation with COAST Foundation. The webinar titled "Rohingya Community & Humanitarian Face of Bangladesh" was organized on the eve of observing 20th June World Refugee Day.
Presided over by Shireen Huq of Naripokkha, the webinar was moderated by Rezaul Karim Chowdhury of CCNF & COAST. Key note presentation was given by Jahangir Alam CCNF & COAST.
In the keynote presentation, Zahangir Alam emphasized participation of local government leaders in response management. Local NGO should be given leadership of field operation while international agencies should be remained for monitoring, fund raising and technical assistance.
Mujibul Islam, General Secretary Cox's Bazar Press Club ,said that, there is no alternative other than repatriation, but until it's happened, we respect our Prime Minister Shiekh Hasina's commitment to maintain human dignity of Rohingya community.
Shireen Huq in her concluding speech said that, restrictive measure cannot be a solution in respect of containing terrorism both in camp and outside the camps. Let's talk with both host and guest community, including participation of women, adolescent and children.
She urged government and NGOs to convince international agencies on best experiences on population control that should be implemented for the refugee community.
Gawher Nayeem Wahra of Disaster Forum said that, there should be local resource mobilization in respect of meeting key demand of 1 million Rohingya communities in respect of providing salt and dry fish from Cox's Bazar and lungi from Sahajadpur.
He also said that government should consider to sign on Geneva Convention on Refugees which will legitimize Bangladesh voice for Rohingya rights.
Asif Munier, an  independent expert on migration and refugees, said that, we have experienced police and army personnel who worked with UN for refugee camps in different parts of the world.
They should deploy and ask how to contain terrorism with participation of community and with human face, he said, and urged to expedite commercial diplomacy with Myanmar government.  M Rezaul Karim Chowdhury said that, civil societies should strengthen their communication with civil societies of ASEAN countries, bringing the issues before different international forum like human rights council and help Rohingya diaspora to be organized.