Constitutional recognition of national minorities demanded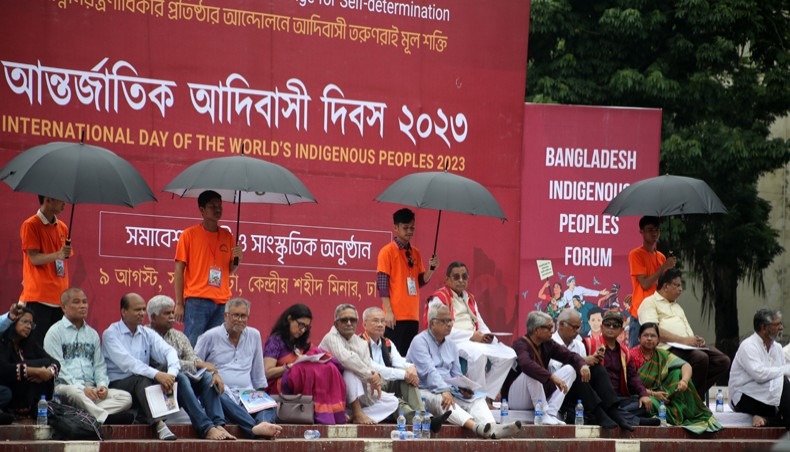 NEWS DESK
Politicians, academics, professionals, and national minority leaders on Wednesday at a discussion demanded constitutional recognition of the national minorities as ''indigenous' people'.
Bangladesh Adivasi Forum organised the discussion as part of its day-long programmes at the Central Shaheed Minar premises to mark the International Day of the World's Indigenous Peoples.
Adivasi Forum president Jyotirindra Bodhipriya Larma, also known as Shantu Larma, chaired the event.
Workers Party of Bangladesh president Rashed Khan Menon said that the national minority people were yet to get their constitutional recognition.
He called on all to start a united movement to establish the constitutional recognition of ethnic minorities.
The youths could play an important role in establishing the rights, Menon said.
Jyotirindra Bodhipriya Larma said that they would organise a greater movement to establish the rights of the 'indigenous' people and end repression against them.
Communist Party of Bangladesh president Mohammad Shah Alam said that the national minority people living both in hilly and plain lands were deprived of their rights.
He called on the government to take steps for the complete implementation of the Parbatya Chattogram Peace Treaty.
Workers Party general secretary and also convener of the parliamentary caucus for the 'adivasi' and minorities, Fazle Hossain Badsha, said that they were trying to establish the rights of the national minority people of the country.
He demanded the formation of a separate land commission for the 'adivasi' people living in the plain lands.
Dhaka University professor Mesbah Kamal called on national minority youths to be organised to establish their rights.
DU professor Sadeka Halim said that they would support the movement of 'adivasi people' to establish their self-determination.
Another DU professor, Robayet Ferdaus, inaugurated the programme.
Non-government organisation ALRD executive director Shamsul Huda, BAPA leader Sharif Jamil, Oikya NAP general secretary Asadullah Tareque, religious minority leader Nirmal Rozario, right activist Zakir Hossain, DU teacher Zobaida Nasreen, and Bangladesh Adivasi Forum general secretary Sanjeeb Drong spoke among others at the discussion programme.
The discussion programme was followed by a cultural programme at the Shaheed Minar premises, where different cultural groups performed 'adivasi' dances.
The cultural programme was followed by a colourful procession that paraded down different city roads.
Jaiya Adivasi Parishad, ALRD, Bela, Blast, Nijera Kori, Kapeeing Foundation, Ain O Salish Kendra, Bangladesh Mahila Parishad, and others extended their support to the programme.