Cyclone Mocha: IOM prepares Rohingya camps in Cox's Bazar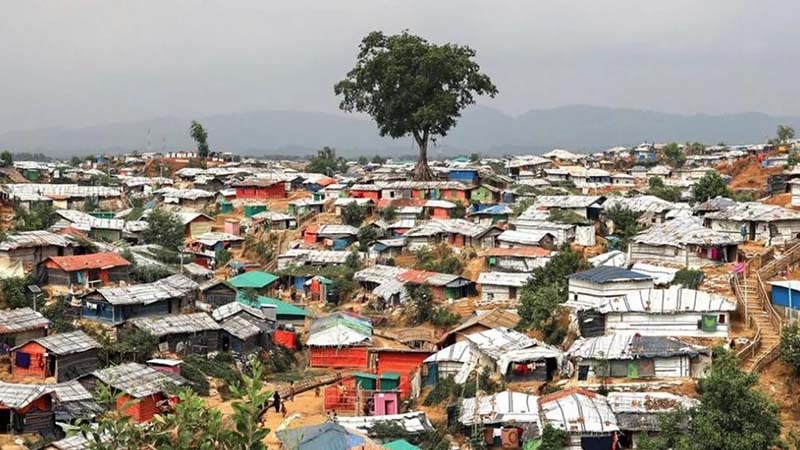 NEWS DESK
Nearly a million Rohingya refugees in the Cox's Bazar camps are bracing for Cyclone Mocha, which is expected to hit the region by Sunday (May 14).
To help the refugees and local host communities, the International Organization for Migration (IOM) is strengthening camp infrastructure, preparing for medical emergencies, and supporting volunteers in cyclone preparedness.
"We have IOM teams and equipment ready to assist government and other humanitarian organizations in clearing the debris to keep key access routes accessible," said Abdusattor Esoev, IOM Chief of Mission in Bangladesh.
Cox's Bazar is one of the most disaster-prone districts in Bangladesh, vulnerable to cyclones, floods, landslides, and other natural hazards that can cause loss of life and damage vital infrastructure in the camps. The latest cyclone also comes as the camps are still recovering from recent devastating fires that left around 20,000 refugees displaced.
IOM and its partners have trained volunteers and equipped health centres with mass casualty kits, mobile medical teams, and ambulances to handle medical emergencies during natural disasters. Over 2,000 volunteers have been trained to respond to cyclones, and 45 multi-purpose cyclone shelters have been made available for emergency evacuation.
"We have trained 100 refugee volunteers in each camp on cyclone preparedness and the flag warning system in 17 IOM-managed camps," said Nihan Erdogan, IOM Deputy Chief of Mission in Bangladesh, based in Cox's Bazar. "Emergency shelter materials and hygiene kits are readily available, and personal protective gear has been provided to all volunteers in IOM-managed camps."
Refugee volunteers also disseminate awareness-raising messages to the community and respond to community requests around the clock.
"We have to alert and assist our fellow community members so they are prepared to respond and protect themselves and others should the weather conditions worsen when the cyclone reaches our camps," said one of the refugee volunteers.
Extreme weather hazards will occur more frequently due to climate change in the years ahead. The linkages between climate change, migration and displacement are increasingly pressing worldwide. To avert, mitigate and address displacement linked to climate disasters and strengthen people's resilience, IOM calls on governments to implement sustainable climate adaptation, preparedness and disaster risk reduction measures.
Last year, the camps escaped devastation from the Bay of Bengal cyclone Sitrang, which killed 35 people, displaced over 20,000, and caused over USD 35 million in damages in other parts of the country.