Dozens of Myanmar Regime Troops Surrender to Resistance in Kayah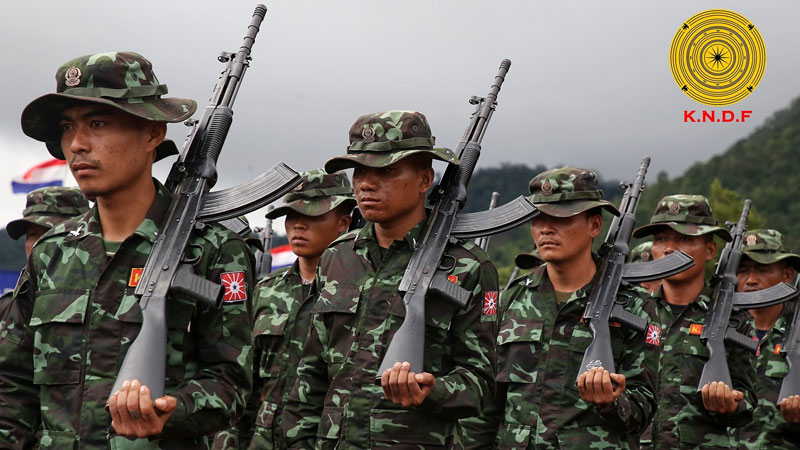 Several dozen Myanmar regime troops, including battalion commanders, have surrendered to the civilian National Unity Government (NUG) and anti-regime resistance groups in southeastern Kayah State near the Thai border in the largest such surrender since the popular war against the junta broke out in 2021, The Irrawaddy reports.
A battalion commander, his deputy and troops from the regime's Light Infantry Battalion (LIB) 430 guarding Border Milepost No. 13 in Kayah (Karenni) State's Maese Township on the Myanmar-Thai border surrendered to allied Karenni resistance forces on Friday, according to sources on the resistance side.
NUG Defense Ministry Secretary U Naing Htoo Aung also confirmed the surrender of LIB 430 soldiers including the commander and deputy commander.
"They had notified [us] that they would leave behind their weapons and come out of their base," he told The Irrawaddy.
He said a regime battalion guarding an outpost in Nangmar Village in the north of Maese also surrendered.
Fighting has raged in Maese since allied resistance forces carried out simultaneous attacks on junta outposts near the Thai border and on the Maese police station on June 13.
Among the resistance forces fighting the regime in Maese are the Karenni Army, Karenni Nationalities Defense Force, Karen National Liberation Army (the armed wing of the Karen National Union) and People's Defense Force of the shadow NUG. Two Karenni Border Guard Force units that were previously under the command of the Myanmar military switched sides and fought alongside the resistance forces.
The NUG defense secretary refused to say how many troops surrendered, citing security concerns for those who gave themselves up, but said on Tuesday that some regime soldiers had notified Kayah resistance groups and taken refuge with them.
"It could be called the largest surrender so far," said U Naing Htoo Aung.
Sources from the Karenni resistance said 21 soldiers manning the outpost at the Thai-Myanmar Border Milepost No. 13 surrendered on Friday and their weapons were seized.
Including those surrendering at other outposts, they suggested the total number surrendering could be nearly 100.
The Irrawaddy has not been able to independently verify the claim.
Following the surrender of regime troops at Border Milepost No.13, combined Karenni resistance forces have taken control of Maese town, according to the Karenni military central information committee.
Since then, the junta has responded by sending at least five columns of troops from Loikaw and Demoso to Maese, but allied Karenni resistance forces have intercepted them in Hpasawng Township, where around 400 junta soldiers are attempting to cross the Salween River.
On Sunday, a regime air strike in Hpasawng killed four civilians, according to the Free Burma Rangers (FBR) assistance group.