Efforts to bring justice to Rohingya must be accelerated, ICC chief prosecutor says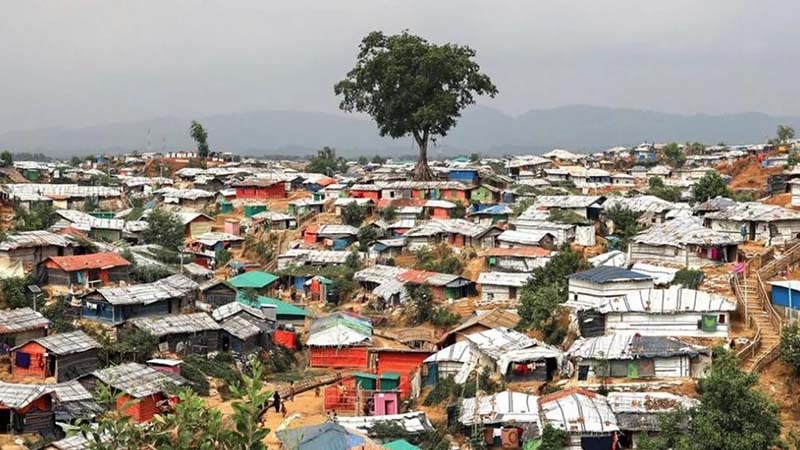 The International Criminal Court's chief prosecutor told CNN Friday that efforts to bring justice for the Rohingya must be accelerated and the world cannot look away from the ongoing crisis, CNN reports.
Chief prosecutor Karim Khan visited Cox's Bazar, Bangladesh, for four days this week to hear testimony from survivors of alleged genocide by Myanmar's military against its Rohingya population.
"There is heartbreak in these camps," Khan said in an exclusive interview with CNN. "They feel the world is looking elsewhere, is looking at Ukraine (and) other epicenters. And they have a right to justice."
More than 700,000 people have been living in squalid and overcrowded refugee camps in Bangladesh since fleeing attacks in Myanmar's Rakhine state that began in August 2017.
In 2019, judges at the ICC approved a full investigation into alleged crimes against humanity targeting the Muslim-majority Rohingya people, including systematic acts of violence, forced deportation and ethnic and religious persecution.
Those who fled the bloody crackdown have detailed murders, rape, torture and arson, among other atrocities.
The chief prosecutor acknowledged the frustration felt at the speed at which the court issued an arrest warrant for Russian President Vladimir Putin for an alleged scheme to deport Ukrainian children to Russia. Meanwhile, the Rohingya have been waiting six years and no such action has been taken against the Myanmar military leaders who ordered the attacks.
"The big difference is that we have access to Ukraine, we don't have access to Myanmar," Khan said. "My presence here, my presence last year and the team's almost constant presence here over the last year … is evidence of the fact they've not been forgotten."
Ziabul Hossain, a community teacher for high school level students in the camps, said he recognizes the work the ICC is doing but said the process is taking too long while they live in dire conditions.
"The first time when I met with the ICC lawyer in camp, I told them that we have been suffering for a long time, which the world knew [better]. But you are still researching. How much more time will it take for our justice?" he said.
ICC's Khan said his office was trying to secure additional resources and had appointed a senior lawyer to lead the Myanmar team.
On Thursday, the UN High Commissioner for Human Rights Volker Türk said Myanmar continues "its deadly freefall into even deeper violence and heartbreak" and the military junta, which seized power in a 2021 coup, relies on "systematic control tactics, fear and terror."
Asked whether ongoing alleged crimes by the military against Myanmar civilians could be used as part of any legal prosecution, Khan said "we have jurisdiction only because Bangladesh is a state party."
Known as the world's "court of last resort," the ICC has a mandate to try genocide, crimes against humanity, crimes of aggression and war crimes. Though 123 countries are parties to the treaty that brought the court into existence, Myanmar is not a state party, but Bangladesh is.
While "we need the widest spectrum of evidence," Khan said, "the judges have held that we can look into matters where at least one of the elements of the offense is committed on this territory."
The ICC investigation is running parallel but separate to a genocide case filed by Gambia to the International Court of Justice, and another case taken up by Argentina's judiciary investigating alleged war crimes under the principles of "universal justice."
The ICC prosecutor said it was important to show there are "red lines that cannot be crossed" and that "politics, national interest, the aims to retain power are not good enough to ride roughshod over the rights of civilians."
"I think collectively we're failing and I think what we're trying to do in the office that I lead is to move with more focus and to get results by separating truth from fiction," Khan said.
But he noted "the world can't look away."
Food rations cut, risk from traffickers
Families in the camps are entirely dependent on aid and have seen their food allowances repeatedly cut, children can't go to school and young people have few opportunities, Khan said.
"Now families are being given 9 taka (8 cents) a day for a meal. And the cost of a single egg is 12 taka (11 cents). So food should not be taken off the plates of children and diverted elsewhere," he said.
Last month, the World Food Program was forced to cut food rations for Rohingya refugees in Bangladesh after suffering a funding shortfall of $56 million.
The cuts reduced the value of rations to about 27 cents per day, according to the UN human rights agency.
Mohamed Rofique, 35, has lived in the camp with his family of four since fleeing the violence in his home town of Maungdaw, in Rakhine state.
He told CNN Friday the food ration shortages are hitting his community hard.
"Eight dollars of food ration for a month per person is not enough. There is no income activity for the Rohingya living inside the camp," he said.
Mohammad, 26, a Rohingya community leader who only gave his first name for security reasons, said criminal groups operate in the camps and life there "is like a live human in a boiling pan because the camp is not safe."
The reduced food rations have forced "many youths to take risky boat journey in search of better life. It forces many refugees to be used at the hands of smugglers to support their families, it allows the pimps to exploit them into sex work, it increases child marriage and child labor in the camps," said Mohammad, who advocates for the rights of Rohingya in the camp.
On Thursday, a man died after being stabbed in the sprawling refugee camp on the same day as Khan's visit, according to camp leaders and local media, though the two events appear unrelated.
Despite the grim conditions in Cox's Bazar and concerns over whether his community will one day be repatriated to Myanmar, Rofique is optimistic about the ICC investigation.
"The ICC and ICJ are proceeding the case according to the law. We believe they will give the rightful punishment to those perpetrators," he said.
Mohammad said the Rohingya "seek justice for the atrocities and genocide committed against our community and want to see the real perpetrators brought to trial."
"We also hope that ICC investigation will lead to a formal recognition of the crimes committed by Myanmar military junta," he added.
Chief prosecutor Khan believed that Myanmar's military leaders, including junta leader Min Aung Hlaing could be held to account.
Khan pointed to historic trials of former Yugoslavian President Slobodan Milošević, former Liberian leader Charles Taylor, and former Rwandan Prime Minister Jean Kambanda.
"One thing is certain," he said. "Unless we collect evidence, analyze evidence, unless we check what is incriminating and what is exonerating, there will be no chance of justice."