Four held on charges of killing two Rohingya leaders in Cox's Bazar camp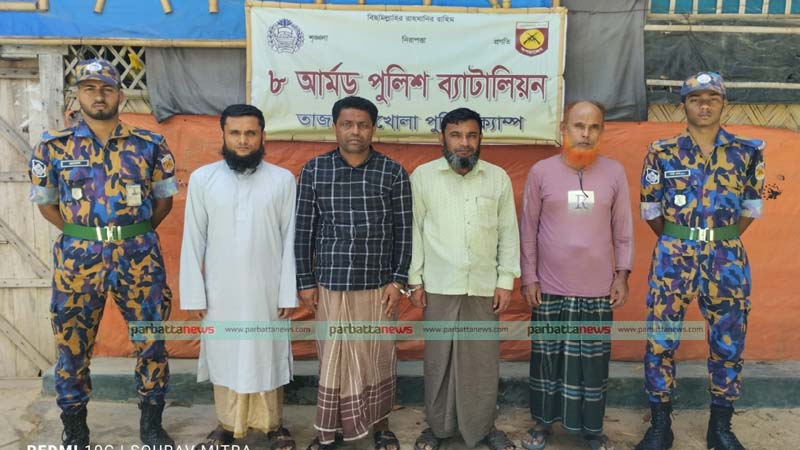 PALANGKHALI CORRESPONDENT, COX'S BAZAR
The Armed Police Battalion, or APBn, has arrested four people who are accused of killing two Rohingya community leaders at a Rohingya camp in Ukhia upazila of Cox's Bazar.
The arrestees were identified as Samsu Alam, 52, son of the late Kala Miah of Camp-13; Rashid Ahmed, 53, son of the late Sabbir Ahmed; Mahbubur Rahman, 28, son of the late Maulvi Jubair Ahmed; and Nazir Ahmed, 47, son of the late Ali Ahmed of Camp-19.
They were arrested in the case – filed by the family of one of the deceased Rohingya community leader Anwar – on Tuesday (October 18) from Camps-13 and-19. The case has 20 people named and 14 to 15 others unnamed.
APBn Assistant Superintendent of Police (Operations and Media) Md. Faruk Ahmed said they have handed over the arrested to Ukhia Police Station.
The operation to arrest the rest of the accused continues, he said.
On Saturday (Oct 15), a group of about a dozen people attacked and killed two Rohingya community leaders, Maulvi Md. Yunus and Anwar Hossain, at camp No. 13.