Gaza bleeds as Israel pounds enclave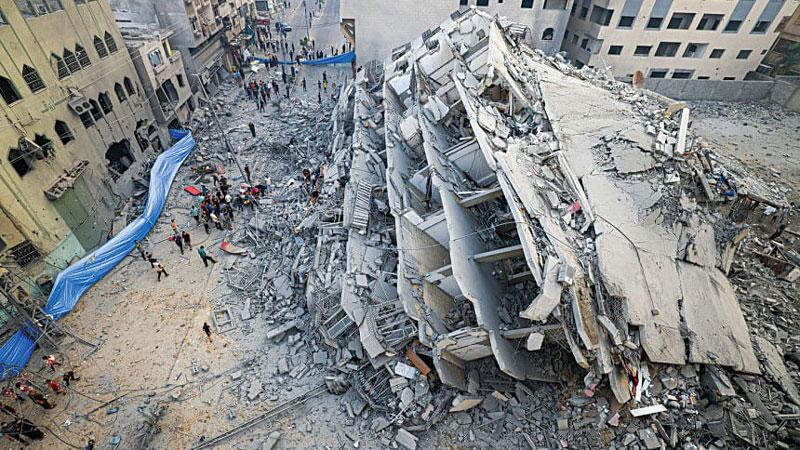 Israel battered Gaza on Sunday after suffering its bloodiest attack in decades, as Hamas fighters rampaged through Israeli towns killing 600 and abducting dozens more, global news agencies report.
Israeli air strikes hit housing blocks, tunnels, a mosque and homes of Hamas officials in Gaza, killing more than 370 people, including 20 children.
Gaza was hammered by Israeli air strikes on 800 targets ahead of what many feared may be a looming ground invasion as Israel formally declared war on Hamas on Sunday.
In a sign the conflict could spread beyond blockaded Gaza, Israel and Lebanon's Iran-backed Hezbollah militia exchanged artillery and rocket fire, while in Alexandria, two Israeli tourists were shot dead along with their Egyptian guide.
In southern Israel, Hamas gunmen were still fighting Israeli security forces 24 hours after a surprise, multi-pronged assault of rocket barrages and bands of gunmen who overran army bases and invaded border towns.
Israel's military, which faces questions over its failure to prevent the attack, said it had regained control of most infiltration points along security barriers, killed hundreds of attackers and taken dozens more prisoners.
"We're going to be attacking Hamas severely and this is going to be a long, long haul," an Israeli military spokesperson told a briefing with reporters.
According to Israeli Prime Minister Benjamin Netanyahu, Israel's "first phase" of retaliation has ended with the "destruction of the majority of the enemy forces that penetrated our territory."
It will be followed by an "offensive formation," he said.
His government has decided to stop the supply of electricity, fuel and goods to Gaza.
The military said it had deployed tens of thousands of soldiers around Gaza, a narrow strip that is home to 2.3 million Palestinians, and was starting to evacuate all Israelis living around the frontier of the territory.
The attack by Hamas launched at dawn on Saturday represented the biggest and deadliest incursion into Israel since Egypt and Syria launched a sudden assault in an effort to reclaim lost territory in the Yom Kippur war 50 years ago.
At least 600 people were killed, according to reports by Israeli TV stations. Israel has not released an official toll.
The conflict could undermine US-backed moves towards normalising relations between Israel and Saudi Arabia – a security realignment that could threaten Palestinian hopes of self-determination and hem in Hamas' main backer, Iran.
Tehran's other main regional ally, Lebanon's Hezbollah, fought a war with Israel in 2006 and said its "guns and rockets" stand with Hamas. "We recommend Hezbollah not to come into this and I don't think they will," Israel's army spokesperson said.
The debris from Saturday's attack still lay around southern Israeli towns and border communities on Sunday and Israelis were reeling from the sight of bloodied bodies lying on suburban streets, in cars and in their homes.
Palestinian fighters escaped back into Gaza with more than 100 hostages, including soldiers and civilians. Hamas said it would issue a statement later on Sunday saying how many captives it had seized.
The capture of so many Israelis, some filmed being pulled through security checkpoints or driven, bleeding, into Gaza, adds another layer of complication for Netanyahu after previous episodes when hostages were exchanged for many Palestinian prisoners.
Hamas fired more rocket salvoes into Israel on Sunday, with air raid sirens sounding across the south, and the Israeli military said it would combine an evacuation of border areas with a search for more gunmen.
Israeli air strikes on Gaza began soon after the Hamas attack and continued overnight and into on Sunday, destroying the group's offices and training camps, but also houses and other buildings.
Gaza's health ministry said 370 people had been killed and 2,200 wounded in the retaliatory strikes.
More than 20,000 Palestinians in Gaza have sought refuge in schools run by the United Nations, the UN's Palestinian refugee agency said.
US President Joe Biden has voiced "rock solid and unwavering" support for Israel and warned "against any other party hostile to Israel seeking advantage in this situation".
US Secretary of state Antony Blinken told CNN "we have reports that several Americans were killed" and others missing and "we're working to verify those reports".
Biden also ordered "additional support" for Israel.
The escalation comes against a backdrop of surging violence between Israel and Palestinian militants in the Israeli-occupied West Bank, where a Palestinian authority exercises limited self-rule.
Conditions in the West Bank have worsened under Netanyahu's hard-right government with more Israeli raids and assaults by Jewish settlers on Palestinian villages, and the Palestinian Authority called for an emergency Arab League meeting.
Peacemaking has been stalled for years and Israeli politics have been convulsed this year by internal wrangles over Netanyahu's plans to overhaul the judiciary.
Hamas leader Ismail Haniyeh said the assault that began in Gaza would spread to the West Bank and Jerusalem. Gazans have lived under an Israeli-led blockade for 16 years since Hamas seized control of the territory in 2007.
"How many times have we warned you that the Palestinian people have been living in refugee camps for 75 years, and you refuse to recognise the rights of our people?"
Hamas said Saturday it had fired 5,000 rockets, while Israel reported some 3,000 incoming projectiles, as Hamas ground forces launched their assault on nearby Israeli communities.
Israel and Hamas have fought several wars since, with the latest in May killing 34 Palestinians and one Israeli.
Many Gaza residents voiced defiance. "We will not give up, and we are here to stay," said Mohammed Saq Allah, 23. "This is our land, and we will not abandon our land."