Goods trucks torched in Khagrachhari protesting killing of UPDF leader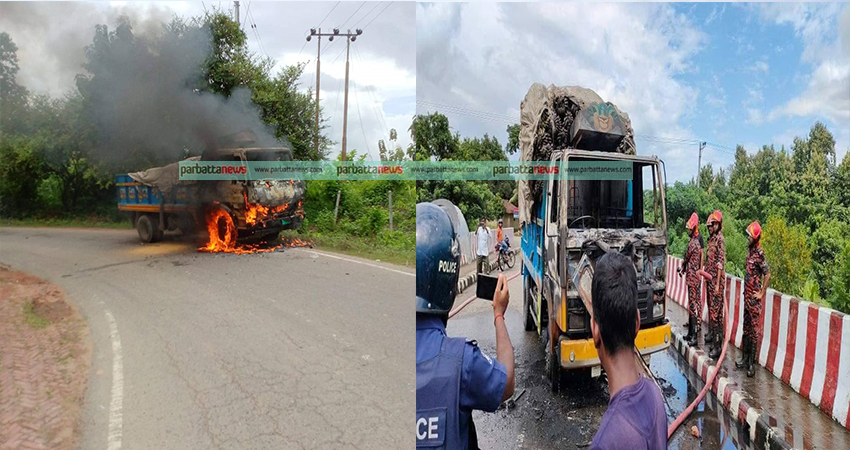 STAFF REPORTER/KHAGRACHHARI/GUIMARA CORRESPONDENT
Tensions have again run high in the hill tracts as terrorists of UPDF, a regional political party led by Prasit Bikash Khisa, set fire to trucks on the Khagrachhari-Dhaka regional road in protest against the killing of local UPDF (Prasit) leader Angthui Marma on Friday afternoon (Sept 2, 2022).
The incidents separately took place around 3:00pm at Dataram Para of Ramgarh upazila and Bailachari of Guimara upazila.
On information, security forces and police personnel reached the spots and the terrorists fled. However, no one was injured in the incidents.
Workers aboard the trucks said that no one was injured in the incidents, but the damage to the trucks, including goods, were estimated to be Tk 15 to Tk 16 lakh.
A source in the UPDF said the blockade was being observed by local UPDF activists, supporters and unit members in an immediate reaction to the killing of Angthui Marma. Besides, the UPDF was observing road blockade programmes in different areas of Guimara upazila.
Ramgarh Fire Station Officer Iftekhar Uddin said that as soon as the news was received, two teams rushed to the spot and brought the truck's fire under control.
Officer-in-charge of Ramgarh Police Station Mizanur Rahman and Officer-in-Charge of Guimara Police Station Mohammad Rashid, confirming the incident, said that fire service personnel have brought the fire set to the trucks under control.
Members of the law enforcement agencies are patrolling the area, they added.
Earlier on Friday night, Angthui Marma alias Agun, 52, a regional commander of the Guimara branch of the UPDF, a regional armed organisation led by Prasit Bikash Khisa, was killed in a gunfight between two regional armed groups in Khagrachhari's Guimara.