Hamas-Israel war slams door on US-Iran thaw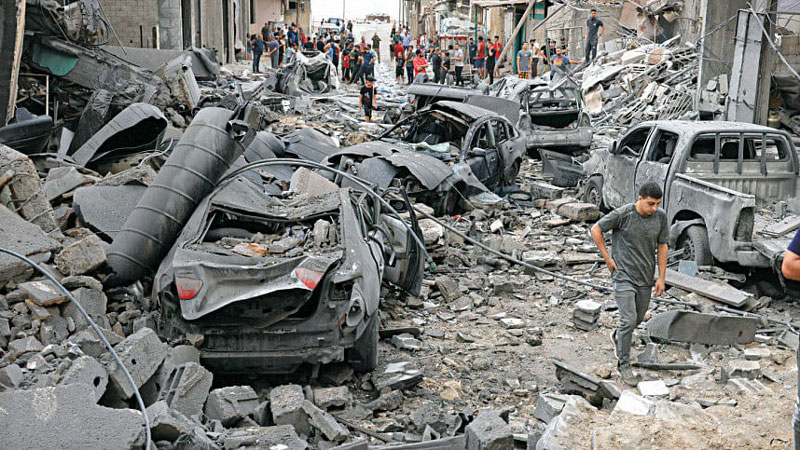 Through quiet diplomacy with Iran, US President Joe Biden's administration had strived to keep a lid on Middle East troubles. That bet came crashing down with Saturday's massive offensive by Hamas against Israel, AFP reports.
Iran's clerical leadership openly supports the group, who control the blockaded and impoverished Gaza Strip, and hailed the sneak attack that inflicted the deadliest blow on Israel in decades.
The Biden administration has engaged in cautious talks with Iranian officials, mostly taking place out of public view in Gulf Arab states, and reached an agreement last month that freed five Americans.
While making limited headway on the key issue of Iran's nuclear program, US officials have alluded to tacit understandings with Tehran to turn down the temperature.
Jake Sullivan, Biden's national security advisor, told a September 27 event that Iranian-backed attacks in Iraq have stopped "for now" and pointed to a de facto truce in war-ravaged Yemen, where Tehran backs Huthi rebels.
"The Middle East region is quieter today than it has been in two decades," Sullivan said, while cautioning that the situation could change and listing Iran's nuclear program and the Israeli-Palestinian conflict as festering issues.
Less than two weeks later, Hamas launched its surprise attack against Israel, leaving US diplomats scrambling to try and contain the outbreak of violence from spreading in the region.
The rival Republican Party has gone on the attack against Biden over the violence, pointing to the deal to free prisoners, which required the transfer of $6 billion in Iranian oil revenue frozen in South Korea to an account in Qatar.
There is no evidence the money went to Hamas. Secretary of State Antony Blinken said "not a single dollar" has been dispensed.
But beyond the money, experts said offensive showed the limitations of Biden's approach with Iran.
"The deal with Iran was not just about prisoner release, but establishing some kind of a process that could potentially de-escalate the conflict between the two states," said Ray Takeyh, a fellow for Middle East studies at the Council on Foreign Relations.