High-level BGB-BGP meeting from Nov 23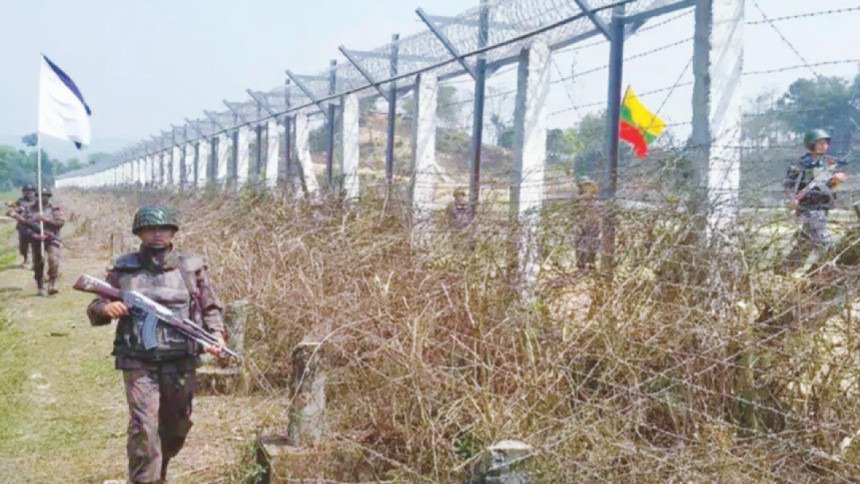 NEWS DESK
After a pause of over two years due to the Covid-19 pandemic, the high-level conference between Border Guard Bangladesh (BGB) and Border Guard Police (BGP) of Myanmar is set to begin in Naypyitaw on November 23.
During the five-day conference, BGB will prioritise discussing the present border situation including Myanmar forces' recent violation of Bangladesh's airspace, BGB officials said.
Other security-related issues like trans-border crime control, prevention of drug smuggling and human trafficking will also be discussed.
"We have pursued our counterparts to hold the meeting so that w can make our points," Lt Col Fayzur Rahman, director (operations) at BGB, said.
A nine-member team led by BGB Director General Maj Gen Shakil Ahmed will participate in the meeting.
The seventh conference was held at the BGB headquarters in Dhaka in 2020.
Myanmar forces fired mortar shells during their fight with the Arakan Army and some of those landed on Bangladesh territory recently.
On September 16, a Rohingya boy was killed and five others injured as a mortar shells fired by the Myanmar army exploded at a Rohingya camp located at the Zero Point of the border.
The BGP at a flag meeting in October 30 with BGB expressed sincere regret for all the recent incidents including that took place in the Bangladesh-Myanmar border areas.