HRW urges Bangladesh to halt Rohingya repatriation plan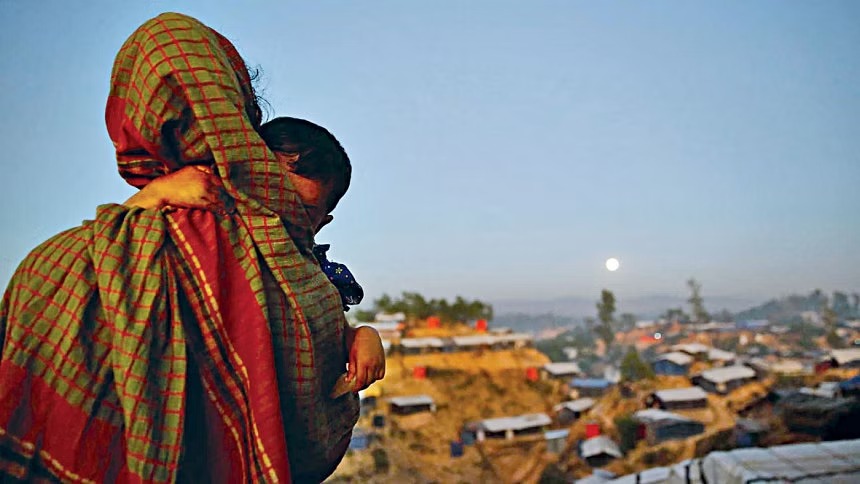 NEWS  DESK
Human Rights Watch on Friday (March 31) urged Bangladesh to suspend plans to repatriate Rohingya refugees to Myanmar, warning conditions there would not be safe for the persecuted and stateless minority.
Bangladesh is home to around a million Rohingya, most of whom fled a 2017 military crackdown in neighbouring Myanmar that is now subject to a UN genocide investigation.
A delegation from Myanmar's military regime travelled to Bangladesh this month to interview potential candidates for return and jump-start a stalled repatriation scheme.
But any return to Myanmar would put the lives and liberty of refugees "at grave risk", Human Rights Watch said in a statement.
"Voluntary, safe, and dignified returns of Rohingya refugees to Myanmar are not possible while the military junta is carrying out massacres around the country," said Meenakshi Ganguly, HRW's South Asia director.
The Rohingya are widely viewed in Myanmar as interlopers from Bangladesh, despite roots in the country stretching back centuries, and are stateless after Myanmar ceased recognising their citizenship in 2015.
Junta chief Min Aung Hlaing, who has dismissed the Rohingya identity as "imaginary", was head of the armed forces during the 2017 crackdown.
The International Court of Justice is probing allegations of systematic rape, murder and arson against Rohingya by Myanmar's security forces.
Rights groups have accused the junta of planning to orchestrate a "token" return of refugees to avoid the court's censure.
'Repatriation will be voluntary'
A junta spokesman told AFP this month that Myanmar could accept "around 1,000" members of the minority as soon as mid-April.
But a senior foreign ministry official in Bangladesh, speaking on condition of anonymity, told AFP that the amount of preparation still needed made that timeframe doubtful.
He also denied his country would force refugees to return.
"Repatriation will be voluntary," he said.
Thousands of Rohingya risk their lives each year making perilous journeys from camps in Bangladesh and Myanmar to reach Muslim-majority Malaysia and Indonesia.