Indian Army chief meets Bangladesh Army, Navy chiefs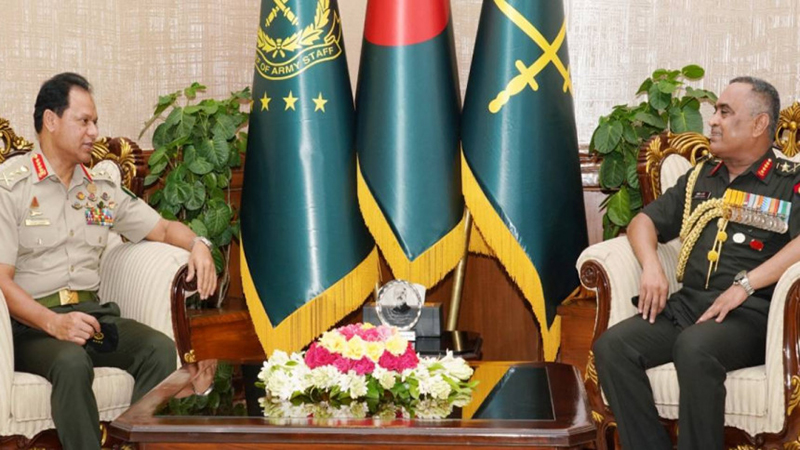 NEWS DESK
Visiting Indian Army Chief General Manoj Pande has paid courtesy calls on Bangladesh Army Chief General SM Shafiuddin Ahmed and Chief of Naval Staff Admiral M Shaheen Iqbal.
He paid a courtesy call on his Bangladesh counterpart General SM Shafiuddin Ahmed at the Army Headquarters in Dhaka and discussed ways to enhance and strengthen bilateral defence cooperation on Monday, July 18, 2022
After the meeting, a special briefing was held at the Helmet Conference Room of the Army Headquarters for the Indian delegation.
The Indian army chief praised the current leadership of the Bangladesh Army and its overall high standards.
Earlier, Gen Pande was given a guard of honour at Senakunja. He also planted a sapling to commemorate the friendship between the two armies.
Gen Pande also made courtesy call on Chief of Naval Staff Admiral M Shaheen Iqbal at the Naval Headquarters in Dhaka.
During the meeting, the Principal Staff Officer of the naval base and senior officers of the Indian Army were present.
The Navy Chief exchanged pleasantries with the Indian Army chief and thanked him for visiting Bangladesh.
They discussed various issues related to bilateral interests including increasing cooperation.
The Indian Army Chief also had courtesy meetings with Prime Minister's Security Affairs Adviser Maj Gen (retd) Tarique Ahmed Siddique and Chief of Air Staff Air Marshal Shaikh Abdul Hannan.
General Pande arrived in Dhaka on Sunday (July 17) on a three-day visit, his first foreign trip since assumption as Indian Army Chief.
He is scheduled to leave Dhaka on Thursday (July 21).