Israel scales up Gaza incursions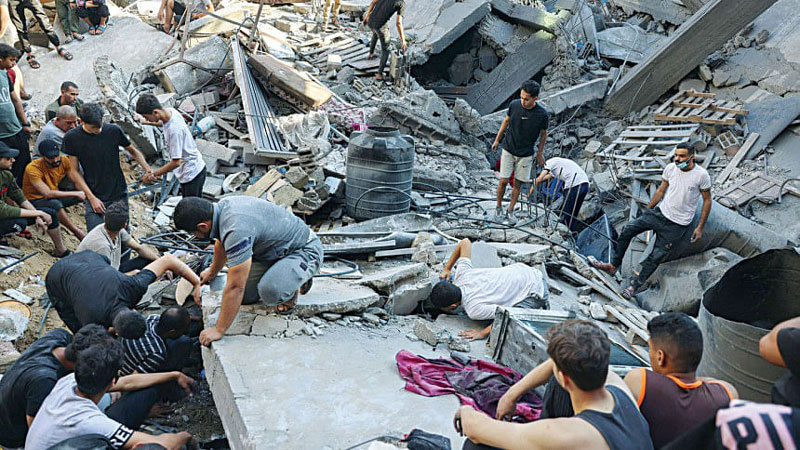 Israel said on Tuesday its forces fought Hamas gunmen inside the vast tunnel network beneath the besieged Palestinian enclave of Gaza, seeking to free hostages and to push forward its campaign to wipe out the Palestinian group, report agencies.
As the battle inside Gaza intensified, Israeli Prime Minister Benjamin Netanyahu dismissed calls for a halt to the fighting.
But international aid officials warned that a public health catastrophe was engulfing civilians in Gaza, with hospitals struggling to cope with the casualties and food, medicine, drinking water and fuel running short.
Medics in Gaza's Indonesian Hospital said they had to set up an operating room in a corridor because the main surgical theatres were full from a sudden influx of civilian casualties from Israeli bombing early on Tuesday.
"Over the last day, combined IDF combat forces struck approximately 300 targets, including anti-tank missile and rocket launch posts below shafts, as well as military compounds inside underground tunnels belonging to the Hamas organization," the Israel Defernce Forces (IDF) said in a statement.
Hamas responded with anti-tank missiles and machine gun fire, it added.
Witnesses said Israeli forces targeted Gaza's main north-south road on Monday and attacked Gaza City from two directions. Israel said its troops freed a soldier from Hamas captivity, reports Reuters.
Hamas has so far released four civilians from the 239 hostages Israel says were captured on October 7. Many of the hostages are believed to held in the Hamas tunnel network.
The al-Qassam brigades, Hamas' armed wing, said gunmen clashed early on Tuesday with Israeli forces "invading the southern Gaza axis, (including) with machine guns, and targeted four vehicles with al-Yassin 105 missiles," referring to locally produced anti-tank missiles.
The health ministry in the Gaza said at least 50 people were killed on Tuesday in Israeli bombardment of Jabalia refugee camp. Earlier in the day, the ministry said 8,525 people have been killed in Gaza since Israel launched its bombing campaign on October 7.
A spokesperson with the UN children's agency in Geneva, James Elder, warned of the risk of infant deaths due to dehydration. Children were getting sick from drinking salty water, he said.
About 940 children are reported missing in Gaza, he said, with some thought to be stuck beneath the rubble of buildings pulverised by Israeli air strikes.
The UN humanitarian office (OCHA) said that water supply through a pipeline from Israel to southern Gaza was cut off on Monday "for unknown reasons", and that an announced repair of another pipeline to central Gaza did not take place.
Meanwhile, Israeli army demolished the West Bank home of exiled Hamas number two Saleh al-Aruri with explosives on Tuesday. The military said forces entered the village of Arura, near Ramallah, and shot at people who were "hurling" rocks towards them during the demolition.