Junta blames ousted government for Myanmar's economic crisis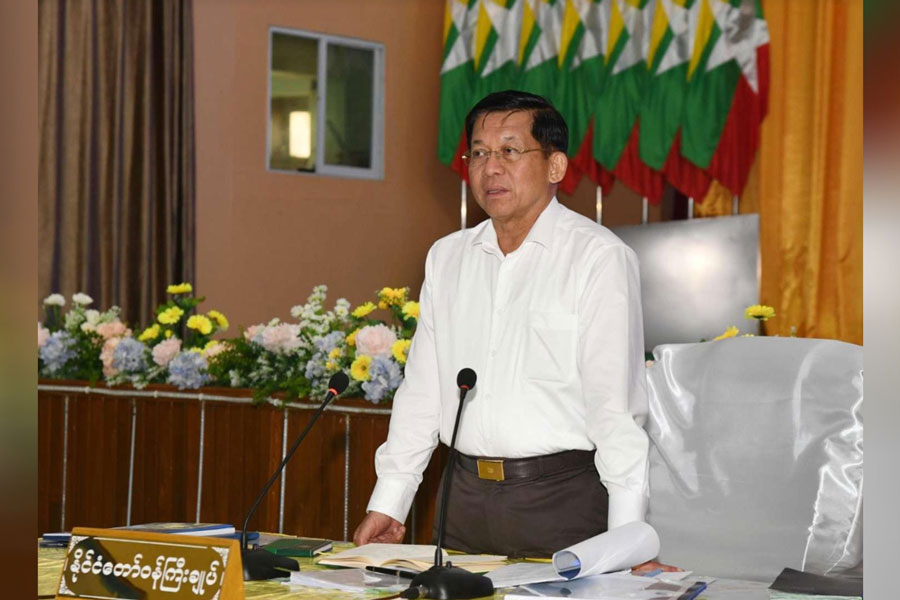 NEWS DESK
The civilian government led by the National League for Democracy (NLD) failed to improve Myanmar's economy, but international agencies and certain organizations helped it pretend that its economic management was fine, junta boss Min Aung Hlaing told a meeting on boosting the national economy on June 30, Reuters reports.
Min Aung Hlaing said he had assigned four of his ministries to analyze the cause of the economic downturn, and they reported that the NLD was to blame.
Myanmar's economy had suffered because the civilian government failed to act wisely and promptly, the report said.
Some foreign agencies and large countries funded the NLD government and gave it favorable ratings because it was willing to dance to their tune, Min Aung Hlaing said.
The general also blamed the NLD for ongoing power outages across the country that began in late 2021 following the coup he led in February of that year.
He told the meeting that the NLD had suspended or canceled electricity projects for various reasons, but did not identify any of the alleged canceled projects by name.
Myanmar's economy will grow by 3.2 percent under his leadership in fiscal 2022-23, the junta boss claimed.
The World Bank has forecast that gross domestic product (GDP) may expand 3 percent in the year to September 2023, but also warned that a number of risks could make it lower. Even if Myanmar's GDP does manage to expand by 3 percent this fiscal year, national GDP will still be 10 percent less than it was in 2019.
These numbers show that Min Aung Hlaing's performance falls far short of the civilian government's—despite his claim.
It is common knowledge that the NLD did not meet expectations for national economic growth because it struggled with the legacy of successive military regimes. This included endemic corruption, red tape, and a bloated, lethargic bureaucracy. The NLD also faced opposition from the old guard in government agencies.
Still, both the International Monetary Fund and World Bank forecast GDP growth in Myanmar when the NLD was in power. The IMF forecast 6.7 percent GDP growth for Myanmar for fiscal 2017-18, while the World Bank's Myanmar Economic Monitor forecast 6.2 percent GDP growth in fiscal 2018-19.
One month before the military coup in February 2021, the World Bank forecast that Myanmar's mid-term growth prospects remained positive, despite the impacts of the pandemic. Six months after the coup, it forecast an 18 percent contraction in Myanmar's economy, with devastating impacts on lives and livelihoods, including a surge in poverty. It also forecast severe constraints on future growth.
Many foreign investors abandoned their operations in Myanmar due to post-coup turmoil. Companies faced intense pressures due to the military's severe human rights violations and the return of economic sanctions.
In June of 2021, the World Bank declined to issue growth forecasts for the now military-ruled country. "Forecast[s] for Myanmar beyond 2021 are excluded because of a high degree of uncertainty," it said in its Global Economic Prospects report. Myanmar has also fallen to the bottom of global indices, and not just economic ones.
The regime appears to have given up on the economy. Instead, it points its finger at the civilian government it ousted. People are complaining about soaring food prices. The currency has plunged and inflation has surged. Traders are struggling with volatile currency-exchange rates. Rolling blackouts are occurring countrywide. This all happened after the coup. Turning a blind eye to this fact will not change the reality that the junta cannot even deliver power.