KNA responds with threat as travel ban on Bandarban's Ruma and Thanchi is lifted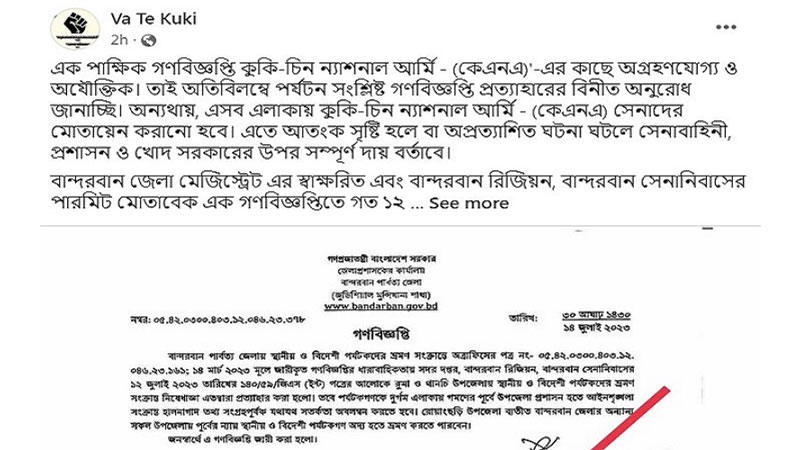 PARBATTA NEWS DESK
The armed wing of the Kuki-Chin National Front (KNF), known as the Kuki-Chin National Army (KNA), has issued a threat in response to the lifting of the travel ban on Bandarban's Thanchi and Ruma upazilas by the district administration.
Captain Fleming, speaking on behalf of the KNA, expressed their dissatisfaction with the district administration's announcement through a social media post on Friday (July 14).
The KNA considers the decision made by the district administration to be unacceptable and unreasonable.
They have demanded the immediate withdrawal of the tourism-related public notice, viewing it as one-sided.
In their statement, the KNA has threatened to deploy their members in the affected areas if their demands are not met.
They further assert that any panic or unforeseen incidents that may occur will be the full responsibility of the administration and the government.
The travel restrictions in Ruma, Rowangchari, and Thanchi upazilas were initially imposed following joint operations by security forces since October last year.
Although the ban on Thanchi and Ruma has now been lifted after an extended period of closure, Rowanchari Upazila remains closed for tourist travel indefinitely.
Deputy Commissioner Yasmin Parvin Tibriji's public notice, signed on Friday (July 14), confirmed the withdrawal of the ban in Thanchi and Ruma.
The decision was based on a letter dated July 12, 2023, from the headquarters, region, and cantonment.
Travelers have been advised to obtain up-to-date information on law and order from the upazila administration before venturing into remote areas.