KNF leader Longa Khumi, acting under cover of journalism, arrested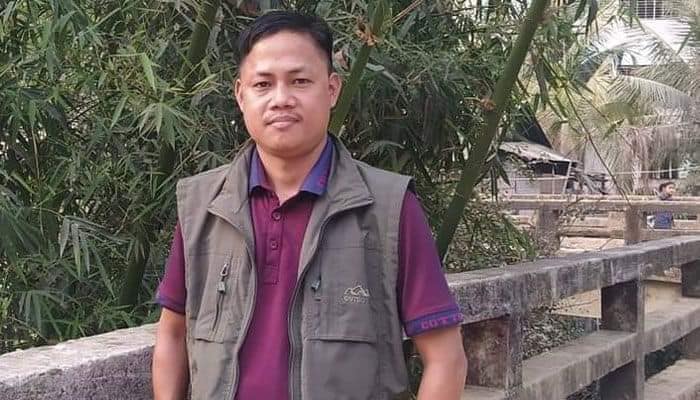 A Kuki-Chin National Army leader was arrested by security forces on suspicion of his involvement with the Kuki-Chin National Army, an anti-state Christian militant organization.
Longa Khumi was apprehended on Friday (May 19) at Ruma market in Bandarban district. He hails from Khulain Para, Ruma Upazila, and his parents are Ngacha Khumi and Angloche Khumi. His wife, Ruma, is currently employed at the Upazila Government Health Complex. Khumi resides near Ruma Church, where he built his house.
Khumi worked as a correspondent for a national daily newspaper in Ruma and held the position of organizing secretary for the Ruma Upazila branch of the BNP (Jerry Group) in a political capacity. He ran as a candidate for the position of UP Chairman in Ruma Sadar Union in 2016 but was unsuccessful. Local residents have accused him of involvement in illegal sand and stone extraction, as well as extortion. In 2008, Khumi also served as Vice President of the Kuki-Chin National Development Organization (KNDO).
Security forces had reportedly been monitoring Khumi for some time due to allegations of his association with the KNF while working as a journalist. He was accused of assisting the KNF in various ways, including motivating the local tribal population on behalf of the organization, using social media aliases to write in support of the KNF, posting content on social media platforms associated with the KNF, gathering information about security forces' operations and movements, smuggling food and supplies to KNF camps, alleged involvement in drug trafficking and logistics, and engaging in espionage for the KNF.
Recent raids on KNF camps led to the discovery of several confidential documents, one of which identified Longa Khumi as the assistant foreign secretary of the organization, with Nathan Bawm serving as the KNF chief. Based on this evidence, security sources have confirmed his arrest. Khumi previously held the position of Vice President in the Kuki-Chin National Development Organization (KNDO), which was established in 2008 under Nathan Bawm's leadership.
Officer-in-Charge Alamgir Hossain of Ruma Police Station stated that Khumi was arrested due to his alleged involvement with the KNF, as there were two cases registered against him at the police station. Following his arrest, he was sent to Bandarban District Jail.
It is worth noting that several months ago, the Rapid Action Battalion (RAB) detained Richard Bawm, a correspondent for Bandarban's daily newspaper "Gankanth," for questioning regarding his alleged connections to the KNF. Other journalists in Bandarban are also reportedly under surveillance due to similar allegations.
According to the latest information, Longa Khumi has been remanded to Bandarban District Jail based on cases No. 1 and No. 3 registered at Ruma Police Station.