Marma girl denies rape allegations, says she is a victim of disinformation campaign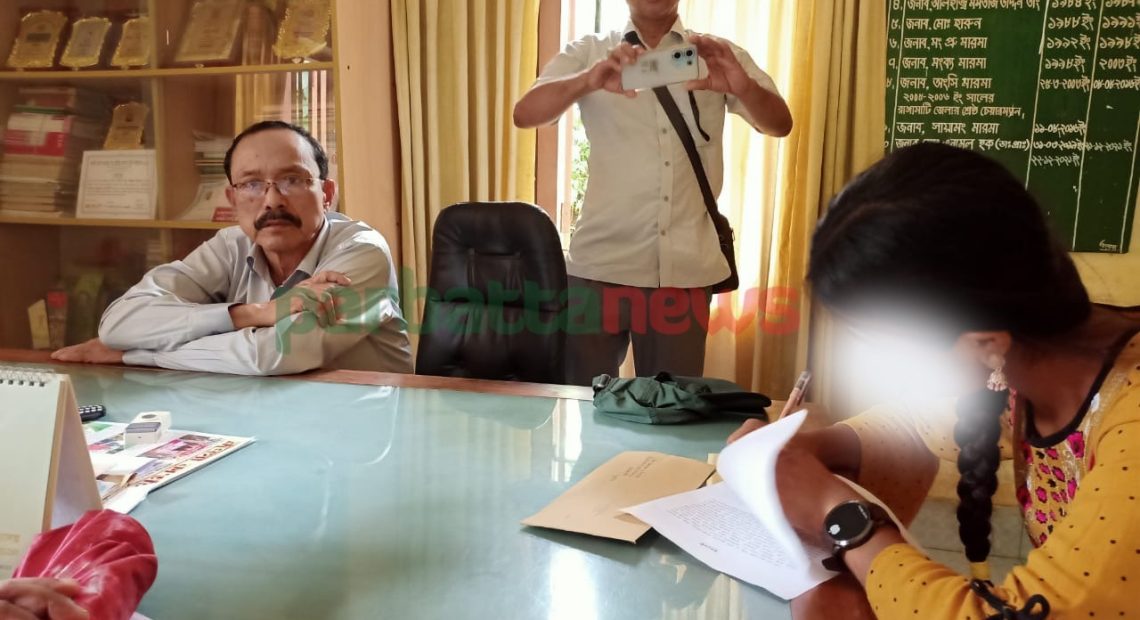 PARBATTA NEWS REPORT
A Marma girl, along with her family and local representatives, vehemently refutes allegations of rape involving six army personnel in Raikhali, Kaptai Upazila, Rangamati district, calling them baseless rumors and propaganda.
Parbatta News has obtained both video and written statements from them regarding this matter, and these have been thoroughly investigated.
Certain Facebook pages based in the Chittagong Hill Tracts (CHT), including Hill Voice and CHT News, have been actively spreading and campaigning on social media in recent days regarding the alleged rape of a Marma girl by six army personnel in white attire from the Mitingachari Army Camp in Raikhali Union, Kaptai Upazila. These pages are supported by a CHT-based regional armed group.
Local union council chairman Mongkyu Marma, when contacted, said that on the morning of Tuesday, September 5, 2023, a false allegation of rape was made against a Marma girl.
He noted that the widespread publicity of this incident has caused extreme social embarrassment for the girl and her family.
In an effort to clear their name, the family, along with the local karbari, submitted a statement to his office, stating that a vested interest group has been spreading rumors to tarnish the image of the Army and socially stigmatize the Marma family.
The Marma family demands strict action against those who are spreading rumors involving them and the army.
Here is the Marma girl's statement verbatim:
"I hereby declare that I am Marma, Father: [Father's Name], Mother: [Mother's Name], Village: Mitiachari, Ward No: 7, Post Office: Raikhali Bazar-4531, Police Station: Chandraghona, Upazila: Kaptai, District: Rangamati Hill District. On the last 3rd of September 2023, there was a disinformation campaign about the army on social media. The incident that the campaign talks about is completely false, fabricated, and staged. Basically, I feel that a vested interest group launched this campaign to destroy the good relationship our neighborhood has with the Bangladesh Army's Meetingachari camp. Basically, an army man dressed in white attire came to take a stem from a Udal tree near my house to use it as medicine. I have a male friend named [Male Friend's Name], Father: [Father's Name], Village: Purnabasan, and a female friend named [Female Friend's Name], Father: [Father's Name], Village: Mitiyachari. The male friend knows him (the army man in question) and is on talking terms with him. After that, he left with the stem of the tree. I have no complaints about this. I want to live in harmony with everyone. This is my statement. I gave this statement spontaneously and without anyone's prompting."
In the video statement, the girl clarified that only one army personnel, dressed in white, visited her home.
According to her, the army personnel conversed with a friend of hers and then left the premises.
She emphasized that she had not met or engaged in any conversation with him as she remained inside the house throughout the entire episode.
When contacted, Mr. Shafiul Azam, Officer-in-Charge of Chandraghona Police Station, categorically stated that no rape incident had occurred in Raikhali Union area.
He pointed out that regional armed organizations were deliberately disseminating falsehoods and unfounded rumors about law enforcement agencies stationed in the Chittagong Hill Tracts region.
These actions, he noted, were aimed at pursuing specific agendas in anticipation of the forthcoming National Parliament elections.
Furthermore, he clarified that there was no military camp by the name of Mitingachari situated in Raikhali Union.
Local Marma community leaders and individuals like Sazai U Marma, a local Mityachari businessman, have expressed strong disapproval and deep anger towards the alleged regional fake news sources.
They claimed that these outlets are tarnishing the army's reputation through the dissemination of groundless allegations.
During the time when the Marma girl was providing her statement to the local chairman, several members of the Marma community were also present.
At that time, they said a faction of regional armed terrorists has recently been actively spreading unfounded rumors, with the sinister aim of disrupting the peace in the Chittagong Hill Tracts region.
Their nefarious intent, they noted, is to sow seeds of discord and foster a negative sentiment among the ordinary hill communities.