Muslim woman leaves the faith to marry Hindu man in Chattogram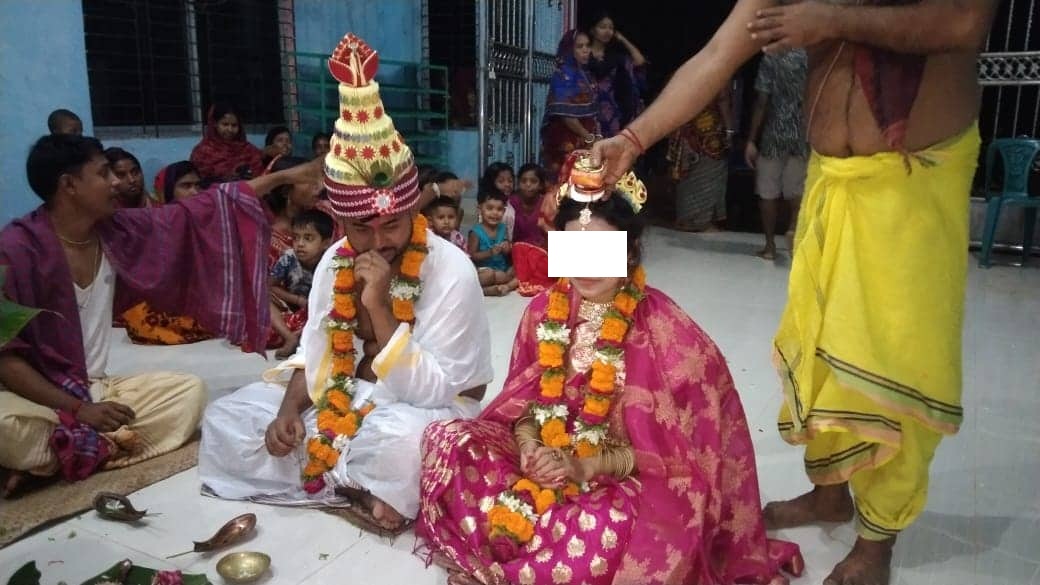 RAJSTHALI CORRESPONDENT, RANGAMATI
A 26-year-old Muslim woman has left her religion and married a Hindu man in Chattogram's Hathazari upazila.
The couple have been identified as Sajuna Akter Nishu, daughter of Md. Idris, now an Oman expatriate, from Pashchim Mekhol village, and Shoyon Nath, 21, as son of Gopal Nath from the same village.
On October 28, the Muslim woman left home promising to her mother that she would be at the house of a friend of hers for two days.
With the help of some Hindu youths, they got married at the Bangalhalia Shiv Temple in Rangamati's Chandraghona the next day.
After 'conversion', the Muslim woman was named Rudrani Devi.
Priest Kazol Chakrabarty conducted the marriage.
Since their marriage, the couple had been living in Bangalhalia Bazar on rent.
According to the newly 'converted' Hindu woman's mother, Rozy Akter, her daughter left home on October 28 saying that she would visit her friend's home.
Finding her daughter nowhere, she said, she filed a general diary with the local police.
Meanwhile, the news of her daughter marrying a Hindu man spread around and even went viral on social media, prompting the couple to go into self-hiding.
Ms Akter, the mother of the newly 'converted' Hindu woman, also attempted but failed to locate and return her daughter.
She visited Bagalhalia all day long on Monday (Nov 14, 2022), but could no way find her daughter out.
The same day, she returned home in Chattogram from Rangamati.
According to her, her daughter was a divorcee. She shares a four-year-old daughter with her first husband. Since the divorce, she has been newly admitted to a local technical college.
The priest of Bangalhalia Shiv Temple, Kazol Chakrabarty, said five people, including Haradhan Karmakar, president of the temple committee, had brought the woman for marriage.
He said he didn't know before or during the marriage that the woman was a Muslim. They revealed her Muslim identity only after the marriage.
An advisor to the temple committee, Pulok Chowdhury, said she was aware of the marriage but didn't know that the woman was a Muslim.
He said that when he learned of the woman's Muslim identity, he tried to find her out and send her back to her mother but failed because the couple had gone into self-hiding.
However, President of Bangalhalia Shiv Temple Committee Haradhan Karmakar blamed Pulok Chowdhury for the marriage, saying it was he who had arranged for the marriage.
Ms Akter, the mother of the newly 'converted' Hindu woman, said her daughter was kidnapped by some Hindu people, including Haradhan Karmakar, Jagdish Debnath, Sujon Ghosh, and Jewel, and married off to a Hindu man.
"Though they have shown me her conversion papers, I don't believe them because my daughter can't do it willingly. I want to get back my daughter and want justice for the abduction of my daughter and thus her marriage to a Hindu man."
Hathazari Police Station's Officer-in-Charge Ruhul Amin Sabuz said investigations were on to locate the couple as soon as possible.