Myanmar Junta Cronies Donate Billions for Min Aung Hlaing's Marble Colossus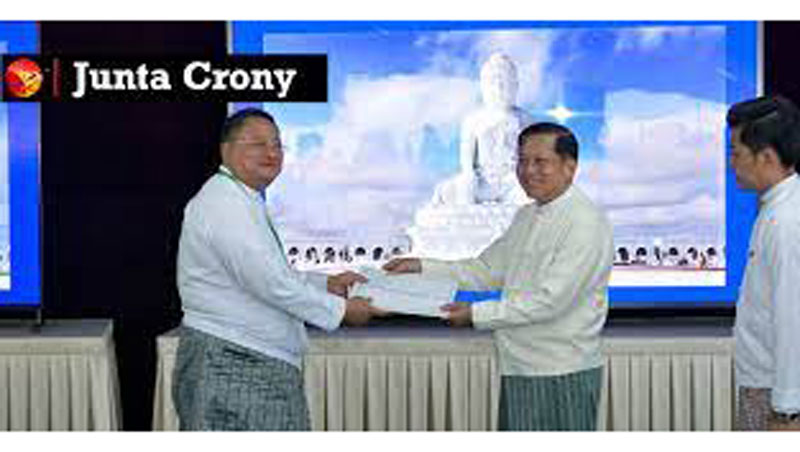 Myanmar cronies flocked to Naypyitaw on Thursday as junta boss Min Aung Hlaing invited donations for a colossal statue touted as the world's tallest marble sitting-Buddha image, The Irrawaddy reports.
According to a junta statement, a total of 101 donors contributed 16.177 billion kyats (US$ 7.6 million).
The guest list for the event was dominated by cronies both big and small. Notable attendees included the founder of CB Bank U Khin Maung Aye, chairman of Max Myanmar Group of Companies U Zaw Zaw, U Tun Myint Naing of Asia World, U Zaw Win Shein of Ayeyar Hinthar Holdings, Yuzana Co founder U Htay Myint, Dagon Company founder U Win Aung, and Shwe Thanlwin Co owner U Kyaw Win.
Also present were Kyaw Ne Win, grandson of dictator Ne Win and owner of Omni Focus Co; UAB Bank owner Nay Aung and Pyi Aung, sons of the Than Shwe regime minister Aung Thaung; and U Shwe Kyaing, owner of Wah Wah Win Co.
The top donor was U Khin Maung Aye, contributing over 2.2 billion kyats, followed by Aung Thaung's sons including Myanmar Navy chief Moe Aung (over 512 million kyats), U Tun Myint Naing (500 million kyats), and U Zaw Zaw (297 million kyats).
Donating 300 million kyats each were U Zaw Win Shein, Shwe Taung Co founder U Aung Zaw Naing, and U Htay Myint.
U Win Aung contributed 297 million kyats, while U Shwe Kyaing and U Kyaw Win each stumped up 100 million kyats.
Eden Group, whose chairman U Chit Khine has been arrested by the regime, tossed in a whopping 1.5 billion kyats.
Also donating cash at the event was Maung Weik, founder of Sae Paing Co and the key prosecution witness in a corruption case against deposed civilian leader Daw Aung San Suu Kyi.
Maung Weik announced on Facebook he had been released from junta detention on Thursday but failed to mention his attendance at the event on the same day.
Min Aung Hlaing led the cronies on a visit to the park in Dekkhinathiri Township where the 81-foot (24.69-meter)-tall Buddha image known as Maravijaya is being built.
He said he had been handed responsibility for its construction by his predecessor, former military dictator Than Shwe, in late 2017 under the aegis of the military. Than Shwe has barely appeared in public since his retirement in 2011, but visited the Buddha statue in February.
The business cronies are rarely seen together with junta generals in public, but they were also at the Independence Day dinner hosted by Min Aung Hlaing in January.