Myanmar junta killed at least 150 civilians since Operation 1027 Launch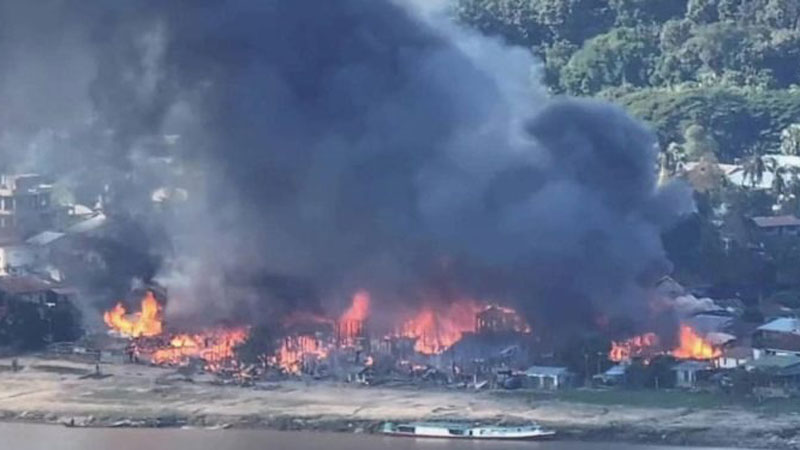 More than 150 civilians have been killed in Myanmar in junta shelling, airstrikes and massacres since Operation 1027 was launched on October 27 in northern Shan State, according to rights groups, reports The Irrawaddy.
Reports by the media, human rights groups and the civilian National Unity Government (NUG) have recorded deaths in northern Shan, Kayah, Chin and Rakhine states and Sagaing and Mandalay regions.
The United Nations on Friday reported that around 70 civilians and people incapable of fighting have been killed, over 90 wounded and more than 200,000 people displaced since October 27.
Over 150 junta positions and around nine towns, including towns on the Chinese and Indian borders, have fallen since the start of Operation 1027.
On Friday morning, two junta fighter jets bombed Wai Luu village in Matupi Township, Chin State, destroying religious buildings, schools and houses, according to the township people's administration.
The airstrike killed six boys and two girls aged five to 12, along with their teacher, who had joined the nationwide civil disobedience movement, and two other villagers. Four more civilians were wounded.
On Thursday, junta Mi-35 helicopters and gunboats attacked Pauktaw town in Rakhine State, where regime police and administrative staff had surrendered to the Arakan Army.
Videos show hundreds fleeing the town as regime helicopters attacked. Later around 100 regime troops entered the town and shot dead around 20 civilians at a community building, according to media reports.
The AA vowed to retaliate.
In Madaya Township, Mandalay Region, troops shot dead 12 civilians in a raid on a teashop. Nine customers, two owners and a pedestrian were reportedly killed.
The Irrawaddy could not independently verify the reports.
After resistance attempts to seize Tigyaing town in Sagaing Region, junta fighter jets bombed six villages outside the town from Sunday to Tuesday, killing 17 civilians, including three children aged between two and six, and a pregnant woman, and injuring 26 others, according to the NUG's human rights ministry.
The civilian ministry said junta troops and Pyu Saw Htee militia allies raided Pyar village in Myingyan Township, Mandalay Region, on November 7 and killed six detainees after a clash with resistance forces near the village.
The Ta'ang Women's Organization reported that at least 37 civilians, including children, were killed and 65 others injured by junta shelling and airstrikes across the northern Shan State between October 27 and November 11.
Clashes have increased in Kayah State since Saturday after several resistance groups, including the Karenni Nationalities Defense Force and Karenni Army, began Operation 1111, attacking regime bases. They are currently attempting to occupy the state capital, Loikaw.
Junta airstrikes and shelling are defending Loikaw with around 48 civilian deaths reported on Thursday by the Karenni Human Rights Group.
On Tuesday, 19 civilians were killed by airstrikes and two in shelling, while three people were shot dead in Loikaw as fighting continues.
Two more people were killed by junta airstrikes in Loikaw on Thursday and rescue groups said they found a tied-up body.
Antonio Guterres, the UN secretary-general, said on Wednesday that civilians should be protected under international humanitarian law and that those responsible for violations should be held accountable.
The Portuguese statesman called for humanitarian access.
Clashes have been reported across the whole country, except in Ayeyarwady Region.
More than 2 million people have been displaced in Myanmar since the February 2021 coup.