Myanmar violates Bangladesh airspace, fires mortar shells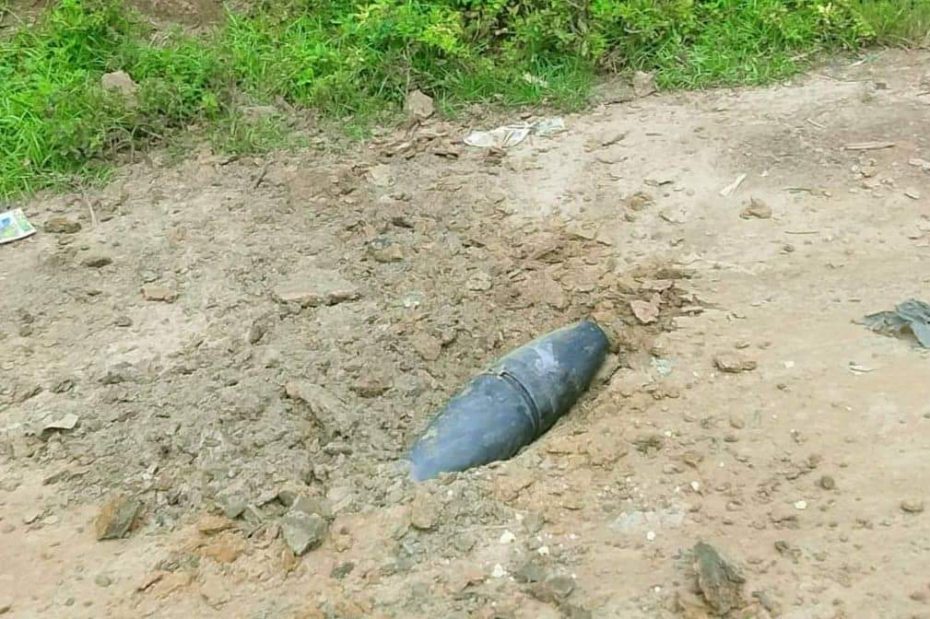 STAFF CORRESPONDENT/BANDARBAN AND BAISHARI CORRESPONDENTS
Two mortar shells fired from Myanmar's warplanes have once again landed inside Bangladesh. On Saturday (Sept 3) at 9:30 am, those shells fell in the Ghumdhum area of Naikhongchhari upazila of Bandarban. This is the third time such incidents have happened.
Bandarban Superintendent of Police (SP) Tariqul Islam Tariq confirmed the matter. He said the law enforcement agencies are on alert in this regard and intelligence surveillance has been increased there.
On Saturday morning, Myanmar's helicopters and fighter jets started bombing along the Ghumdhum border. At this time, panic spread in the entire area. Myanmar's rebel group has claimed to have destroyed and shot down two government helicopters by firing with anti-aircraft heavy machine guns. That claim, however, could not be independently confirmed.
Earlier on Sunday (Aug 28) at around 3 pm, two mortar shells fired from Myanmar fell unexploded near the Tambru North Mosque in Ghumdhum. Bangladesh summoned the Myanmar envoy to protest the incident, but the next day Myanmar's militant helicopter violated Bangladesh's airspace.
According to police and local sources, at around 9:30 am, two army fighter jets and two fighting helicopters patrolled along the Myanmar border in the middle of the border pillars 40-41 under the Jurisdiction of Reju Amtali BGB BOP at Gumbru border in Ghumdhum of Naikhongchhari. At that time, about eight to 10 mortar shells were fired from their fighter aircraft. Apart from this, an estimated 30 to 35 mortar shells were also seen to have been fired from helicopters. At that time, two others were fired from fighter jets and those fell about 120 meters inside Bangladesh along the border pillar 40.
Meanwhile, locals said that four rounds of bullets were fired, using heavy weapons, from the Tambru Right Camp of 2-BGP on the Myanmar side between border pillars 34-35 of Tumbru BGB BOP of Ward No. 1 of Naikhongchhari. Mortar shelling is still going on from Muringaziri camp and Tambru right camp in Myanmar. However, no casualty has been reported so far. Locals are frightened at the incident.
Ghumdhum UP Chairman Jahangir Aziz said, "Two mortar shells came from the other side of the border on Sunday and one on Thursday. This morning (Saturday, Sept 3), two more mortar shells fired from two aircraft again landed inside Bangladesh. Apart from this, two helicopters have been seen patrolling along the border on the other side since yesterday. He also said that this has increased fears among the Rohingya asylum seekers and the locals. The BGB is said to be on high alert along the border."
It is to be noted that a fierce fight broke out between Myanmar's government forces and rebels yesterday. At least 30 soldiers of the government forces were reportedly killed and 20 wounded when the rebels took over a camp near the hills of Kasim Raja. At the time, 10 rebels were killed and 20 wounded, according to reliable sources.
The rebels were able to recover a large amount of ammunition from the government forces. It is learned that the rebel Arakan Army has taken control of a large area of the Bangladesh-Myanmar border from the Myanmar army. It is believed that Myanmar army has carried out this attack to take back the control.