Myanmar's military plans to move Suu Kyi to house arrest, according to unofficial reports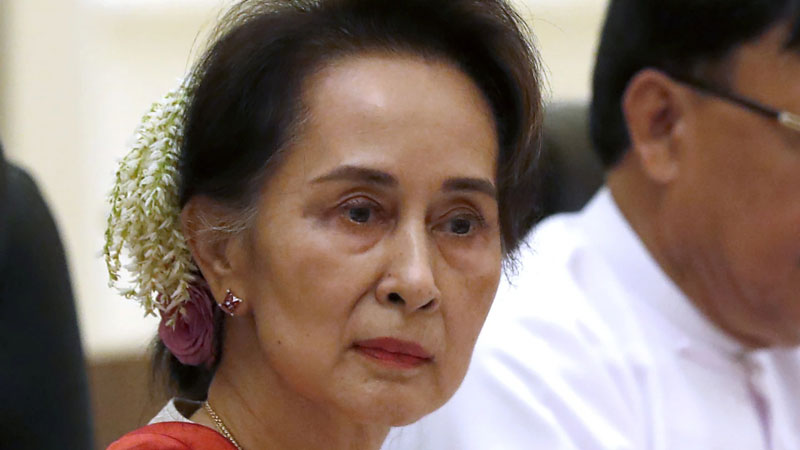 Myanmar's military-controlled government plans to transfer the country's ousted leader Aung San Suu Kyi from a prison in the capital, Naypyitaw, to home confinement. The move is part of an act of clemency to prisoners in connection with a religious ceremony next week, a security official said Tuesday, AP reports.
There has been no official confirmation of the plans, though journalists working for outlets friendly to the military government said they had heard the same information. News about Suu Kyi is tightly controlled by the military government, and even her lawyers are banned by a gag order from talking to the media about her cases.
Suu Kyi, who was arrested on Feb. 1, 2021 when the army seized power from her elected government, has been sentenced to a total of 33 years in prison after being convicted on a range of charges brought by the military government that are widely seen as contrived for political purposes.
Several of her cases are awaiting final appeals. Her National League for Democracy party won a landslide victory in the 2020 election and was about to begin a second five-year term in office.
The official in Naypyitaw, who is familiar with Suu Kyi's situation, told The Associated Press that the military government will announce Suu Kyi's transfer on the occasion of consecrating a new giant statue of a sitting Buddha it has had built, a symbol of devotion in the majority Buddhist nation. The ceremony is due next Tuesday.
The official, who spoke on condition of anonymity because he risks punishment since he is not authorized to release information, said he did not know exactly where she would be moved to or when.
The official said he was unable to confirm a report by the BBC's Myanma-language service that she has already been transferred from the prison to a residence in Naypyitaw assigned to a deputy minister-level Cabinet official. She was initially held after her arrest at her official residence in the capital, then moved to an undisclosed location widely believed to be on an army base before being transferred to prison on June 22, 2022.
The military's 2021 takeover and the crackdown on the armed resistance to it plunged the country into deadly chaos that some U.N. experts have called a civil war. Western governments, including the United States, have imposed sanctions on Myanmar's military government and demanded the immediate release of Suu Kyi and other political detainees.
The reported plans for the 78-year-old Suu Kyi's release have been circulating two weeks — since Thai Foreign Minister Don Pramudwinai met her in prison, becoming the first foreign visitor to be granted access to her since she was detained. Don told journalists she was in good health and conveyed her willingness to engage in talks to resolve the crisis gripping her strife-torn nation.
Suu Kyi has been unable to give her version of the July 9 meeting, said to have lasted about an hour-and-a-half. Myanmar's military confirmed the meeting had been held, but said it had no details because its was one-on-one between the ousted leader and the Thai diplomat.
Don revealed the event when he was attending a meeting in the Indonesian capital, Jakarta, of the Association of Southeast Asian Nations. ASEAN, has been seeking to mediate an end to the violent conflict in Myanmar, which some members believe destabilizes the region.
ASEAN has also been trying to enforce the plan it forged with Myanmar's top general in 2021, which calls for an immediate end to the violence, the start of talks brokered by a special envoy among contending parties, and the delivery of aid to displaced villagers.
But Myanmar's military government has done little to enforce the plan, prompting ASEAN to ban its representatives from top-level meetings. The generals accuse ASEAN of violating the bloc's bedrock principles of nonintervention in each other's domestic affairs.
Suu Kyi, the daughter of Myanmar's martyred independence hero Gen. Aung San, spent almost 15 years as a political prisoner under house arrest between 1989 and 2010.
Her tough stand against military rule in Myanmar turned her into a symbol of nonviolent struggle for democracy, and won her the 1991 Nobel Peace Prize.