Operation Root Out: 15 held in Cox's Bazar Rohingya camp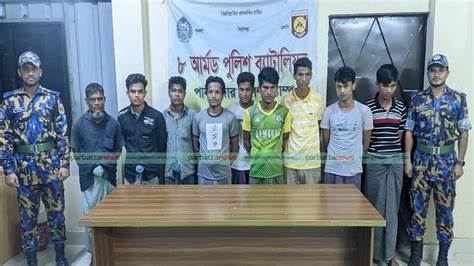 STAFF CORRESPONDENT, COX'S BAZAR
Members of APBn-8 arrested 15 people in possession of 3,000 yaba tablets during a special combing operation at Rohingya camp no. 10 in Cox's Bazar's Ukhia upazila on Monday night (Oct 31, 2022). 
Of them, six were handed over to Ukhia Police Station in connection with a drug case, and nine others were jailed for one month by a mobile court. 
The arrestees are Sabbir Ahmed, 27, son of Hasan Ahmed of Camp-08 East, Block-B/17, Camp-10; , Mohammad Ismail, 40, son of Abu Taher of Block-H/16, Camp-10; Hafizullah, 23, son of Karimullah, of Block-8/40;  Mohammad Hasan, 33, son of Lal Mia of Block-G/42; Mohammad Zakaria, 31, son of the late Ali Zoha, of Block-F/17; and Abdur Rahman, son of Mohammad Hashim, of Block-G/24.
Faruk Ahmed, Assistant Superintendent of Police (Ops and Media) of APBn-8, confirmed this information.
He said they have recently started the ongoing special operation, called Operation Root Out, to keep in check the law and order situation in the Rohingya camp, according to him.
During the operation, Mr Faruk said, they arrested six of the Rohingyas from two different places in possession of a total of 3,000 yaba tablets.