Over 80 regime soldiers reportedly killed in Southeast Myanmar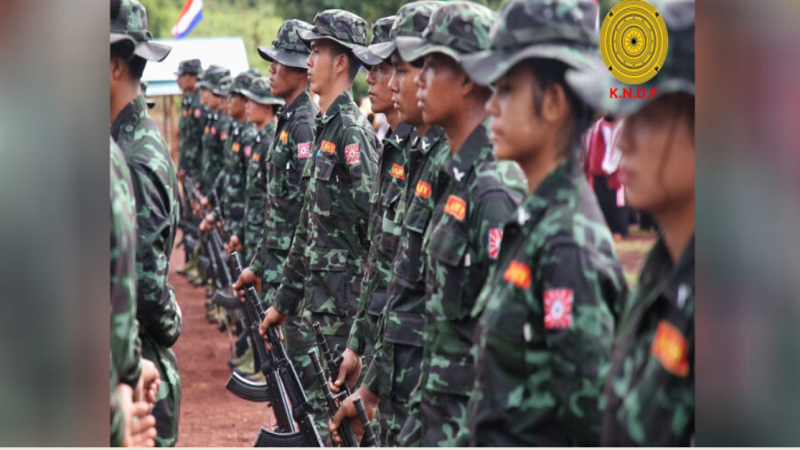 NEWS DESK
Myanmar's junta has pounded the small town of Moebye in Pekon Township, southern Shan State with air and artillery strikes, after regime forces reportedly lost over 80 soldiers killed during four days of intense fighting with resistance groups, The Irrawaddy reports.
An eight-year-old child was killed in the junta bombardment and some 100 houses and buildings were destroyed, said the Progressive Karenni People's Force, a Karenni rights group documenting human rights violations in southeast Myanmar's Kayah State and neighboring townships in southern Shan State.
Intense clashes broke out in Moebye last Thursday when several People's Defense Forces (PDFs) and ethnic armed organizations (EAOs), including the Karenni Nationalities Defense Force (KNDF) and the Karenni Army, attacked some 300 regime troops trying to raid Moebye, according to the resistance groups.
Between September 8 and 11, a total of 85 regime soldiers were reportedly killed by the Karenni resistance forces. Two resistance fighters were killed and over 50 were injured, according to Moebye-PDF, who were involved in the clashes.
However, The Irrawaddy was unable to confirm the military's casualties independently.
Fierce firefights continued in Moebye on Sunday, as resistance groups attacked military regime troops trying to occupy a residential area of the town, according to the KNDF.
Moebye-PDF claimed to have killed at least 25 regime soldiers. Resistance fighters were targeted with air and artillery strikes during the battle.
KNDF released photos of dead junta soldiers and captured weapons and ammunition.
On Saturday, at least 15 regime troops were killed while 13 resistance fighters suffered injuries, Moebye-PDF said. Two regime fighter jets conducted at least seven airstrikes during Saturday's fighting, while junta artillery shelled Moebye.
Another 45 Myanmar military troops were killed on Thursday and Friday, while many weapons were seized along with ammunition. Junta forces based in Moebye and Pekon and Loikaw townships responded with artillery strikes.
Over 5,000 residents were forced to flee their homes due to the fighting.
Regime forces now face near-daily attacks from PDFs and EAOs across the country.