President seeks urgent global actions to solve Rohingya issue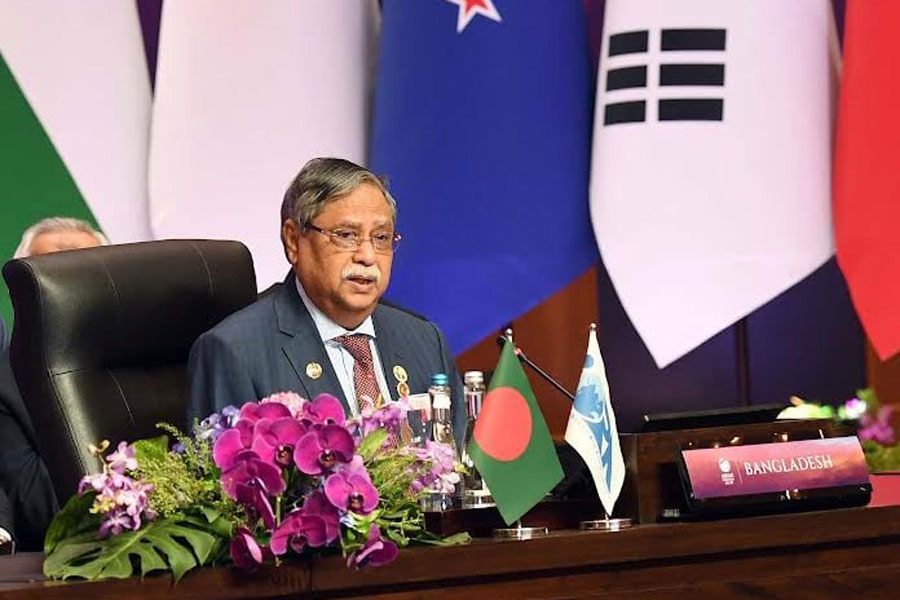 President Mohammed Shahabuddin today (Sept 7) sought urgent global actions to find durable solutions to the Rohingya issue as any delay in safe, voluntary and sustainable repatriation of displaced Myanmar nationals may put the entire region at risk.
"It is the collective responsibility of the international community to find a durable solution to the Rohingya crisis in its place of origin in Myanmar," he said.
The President was speaking at the opening session of the "18th East Asia Summit (EAS)" on the sidelines of 43rd ASEAN Summit at Jakarta Convention Centre (JCC) here this morning.
He said, "Prime Minister Sheikh Hasina has sheltered 1.2 million forcibly displaced people from Myanmar on humanitarian ground . . . (But) further delay to commence safe, voluntary and sustainable repatriation and shortage of humanitarian support may put the entire region at risk."
The Head of State also said even in the 7th year, no solution to the Rohingya issue was sight.
Chair of the ASEAN summit and Indonesian President Joko Widodo presided over the "East Asia Summit" as heads of state and government of different countries, secretary general of ASEAN, ministers and heads of delegation from member states and dialogue partners were present.
President Shahabuddin congratulated the ASEAN chair for commendably steering the organisation and extending warm hospitality to him and his entourage members in Jakarta, expressing desire to enhance relations with ASEAN and institutionalize it by becoming ASEAN's Sectoral Dialogue partner.
He said there are many sectors including trade, investment, trans-national security issues, climate change where ASEAN and Bangladesh can cooperate.
He added: "If we get ASEAN's Sectoral Dialogue Partner status, there would be mutual benefits in many areas through increased economic cooperation, access to regional markets, enhanced regional security cooperation, strengthened regional integration, cultural and people-to-people exchanges."
He continued that ASEAN's Sectoral Dialogue Partner status would open up ample opportunities for both sides and promote Bangladesh's relations with ASEAN (Association of Southeast Asian Nations).
Noting that the Indian Ocean Rim Association (IORA) has turned into an important regional forum on shared values and mutual cooperation, President Shahabuddin said it has provided a platform for cooperation in six priority areas and two cross-cutting issues with possibilities for even more.
"The region – linked by commerce for centuries – is still at the center of global trade and investment flows and IORA can reap benefits from most of the emerging connectivity options and ASEAN is on top of this list," he mentioned.
Appreciating the newly signed MoU between ASEAN and IORA, the President said he looked forward to see it as an important mechanism to enhance mutually beneficial cooperation.
He said Bangladesh has made significant contributions to preparing the IORA Outlook on the Indo-Pacific during its Chairship.
The IORA's engagement in the Indo-Pacific region would ensure a fair, equitable and sustainable trade and investment environment that would enhance economic growth and cooperation while building resilient regional and global value chains, he hoped.
At the very outset of delivering his written speech, the President paid rich tribute to Father of the Nation Bangabandhu Sheikh Mujibur Rahman, the architect of the independent Bangladesh.
He said Bangladesh has made a transformative journey since its independence and a tremendous progress in almost all sectors of socio-economic development under the dynamic leadership of Prime Minister Sheikh Hasina.
On the sidelines of the event, the Bangladesh President also exchanged greetings and had interactions with world leaders including Secretary general of the United Nation António Guterress, Indian Prime Minister Naredra Modi, US Vice President Kamala Harris, Russian Foreign Minister Sergey Lavrov, Vietnamese Prime Minister Pham Minh and Prime Minister of the Lao People's Democratic Republic Sonexay Siphandone.