Repatriation delay pushes Rohingyas into crimes; locals panicked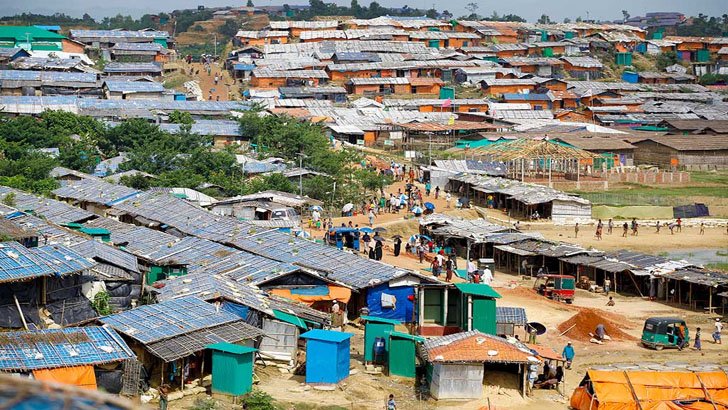 UKHIA CORRESPONDENT, COX'S BAZAR
Many of the Rohingyas, who fled in one cloth five years ago, are now millionaires. Yaba, drugs, arms, gold smuggling are the only means of earnings. Several terrorist groups have been active in the Rohingya camps dominating the arms and drugs trading. They more often than not get involved in various types of misdeeds in the camps. All these things create unrest in the camps.
Especially due to the closure of the Rohingya repatriation process, the Rohingyas are getting involved in various crimes day by day. Master Muhibullah, chairman of the Arakan Rohingya Society for Peace and Human Rights (ARSPH), was shot dead by miscreants at the Lambasia Rohingya camp in Ukhia on the night of September 29, 2021. Later, on October 22, miscreants attacked a madrasa in Camp No. 18 and shot dead six madrasa students, including a teacher. After this incident, there was a kind of scary situation among the Rohingyas. A Rohingya youth named Nurul Amin (26) was killed in the Madhurchara Rohingya camp on the afternoon of August 1. He is the son of Abu Shama of Camp-4 Extension. On August 10, they killed Majhi Abu Taleb, 40, head of C-9 block of Thaingkhali-15 camp in Ukhia, and Syed Hossain, 35, a majhi of C/9 sub-block.
Earlier on June 22, ARSA leader Mohammad Shah and earlier on June 15, Md Selim, 30, a member of the same group, were shot dead by terrorists. On June 10, Mohammad Samin, 30, a volunteer of Camp No. 4 of Kutupalong, and on June 9, Rohingya leader Azim Uddin, 35, were hacked to death by the terrorists. Sanaullah, 40, and Sona Ali, 46, a volunteer, were killed in May. Within a week, terrorists shot dead Md Shah, an aide of Hashim, the second-in-command of the so-called ARSA, at the Rohingya camp in Ukhia. Due to one murder after another in the camps, both the Rohingyas and the locals have been worried about their life.
Abdul Amin, 45, a Rohingya sheltered in camp number 18, said, "Some Rohingyas are committing various types of criminal activities just because of their sheer greed for money. This is bringing disrepute to the entire Rohingya. We, the ordinary Rohingyas, demand that these miscreants should be put on trial and punished."
Abu Taher, a local living next to Camp No. 11 in Balukhali, said, "If the Rohingyas stay here for a few more years, the lives of the locals will be in danger. Because many of the drug smugglers of Cox's Bazar, Teknaf and Ukhia are earning billions of taka by using the Rohingyas as shields for various crimes including dealings of drugs, especially yaba, and human trafficking. '
He also said, "With cash money coming into their hands, the Rohingyas are buying land outside the camps with the help of Bangladeshis and buying houses. Many people are managing national identity cards in exchange for money posing a major threat to our country.
Local Awami League leader Zahirul Islam Prakash Sona Ali said, "We are facing a security threat because of the Rohingyas. There is no normal life here because of them. Many Rohingyas are tied to drug dealers. They smuggle in yaba and other drugs. Due to these things, we are worried about our children's future."
Locals demand that arrangements should be made to send the Rohingyas to their country quickly. Otherwise, they have to be taken somewhere far away from Cox's Bazar. Otherwise, the entire Cox's Bazar security will be at risk.
On condition of anonymity, some local residents said that as the day goes by, the crime rate among the Rohingyas increases. At least seven to eight terrorist groups, including the Arakan Rohingya Salvation Army (ARSA), are active in the camps. They have the backing of Myanmar too, a source said.
Sheikh Mohammad Ali, officer-in-charge of Ukhia Police Station, said, "From August 2017 to August 25, 2022, 76 murder cases have been filed with Ukhia Police Station. Police have arrested 174 terrorists in this connection. Besides, 55 cases have been filed with Ukhia Police Station in the last five years in connection with the preparation of robbery, while 476 accused have been arrested."
"We have reviewed that the Rohingyas are involved in at least 14 types of crimes, including murder, drug trade, extortion, human trafficking, kidnapping, arson, theft, robbery, snatching and rape. However, at present, the overall situation of the camps is much better than in the past. '
Additional Superintendent of Police (Media) of Armed Police Battalion-8 Md Kamran Hossain, who is in charge of security at the camp, said, "To reduce the trend of crimes in the Rohingya camps, a volunteering guarding system has been introduced in the camps. Even then, some miscreants are committing isolated incidents in the camps. We are trying to bring them to justice.
Additional Refugee Relief and Repatriation Commissioner Md. Shamsuddoza could not be reached on the phone.
It is to be noted that after August 25, 2017, 700,000 Rohingyas took shelter in Bangladesh fleeing the persecution in Myanmar. Earlier, the number of Rohingyas who had fled to Bangladesh from Myanmar at different times was 400,000. In the last few years, the number of Rohingyas in Bangladesh has increased to 1.2 million.