Reports of several casualties during fierce JSS-UPDF gunfights go viral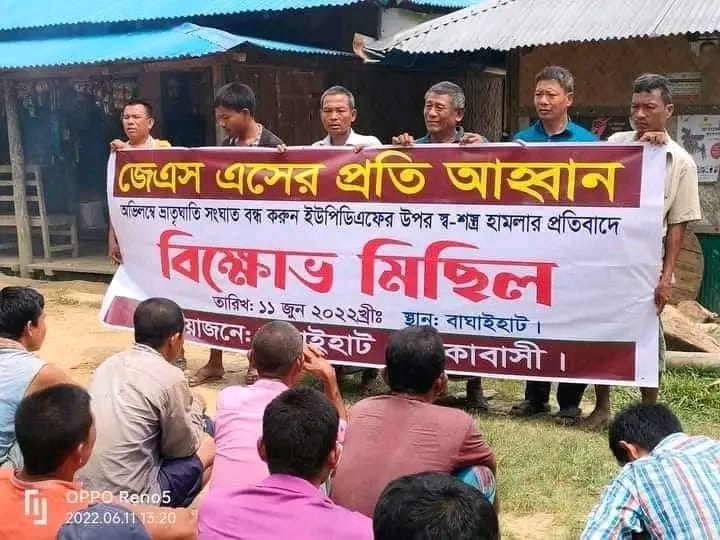 SPECIAL CORRESPONDENT
Reports of massive gunfights between JSS (Santu) and UPDF (Prasit) in Dighinala and Panchhari of Khagrachhari resulting in several casualties have gone viral on social media since Saturday morning.
Although neither side has officially acknowledged this, various Facebook IDs, pages and groups run by them have claimed that gunfights between them did take place resulting in several casualties.
That the UPDF (Prasit) is holding rallies in various parts of Panchhari, Dighinala and Mahalchhari of the district urging the JSS to stop attacking them indicates that gunfights did take place between them.
JSS leaders using their various Facebook IDs and pages have claimed that four members of the UPDF, including military commanders, and three other members wounded in the gunfights.
According to social media posts, there were heavy shelling between the two armed groups in remote Naraichhari of Dighinala and Kharansingh Para of Khagrachhari's Panchhari since Saturday morning.
Initially, there were claims that least 10 people had been killed in the gun battles.
However, police could not confirm the authenticity of social media posts claiming gunfights resulting in casualties.
Social media posts on Saturday morning have claimed that the exchange of fire between the two sides started when armed terrorists of JSS (Santu) attacked UPDF (Prasit)'s dens on Saturday morning.
During the gunfights, at least four people from both sides were killed in Naraichhari and seven from both sides in Kharansingh Karbari Para in Panchhari. The number of injured is unknown.
According to a responsible source, a memorandum of understanding was signed between UPDF (Prasit Bikash Khisa) and JSS (Santu Larma, chairman of Chittagong Hill Tracts Regional Council) in 2015-16.
They had agreed that they would abstain from carrying out their organizational activities in each other's areas.
However, for the last few years, violating the MoU, armed terrorists of JSS (Santu) have been stationed in UPDF (Prasit)'s areas. Due to this, both the groups have been at loggerheads there.
The UPDF (Prasit) had the general public organize processions and rallies many times to push for Santu's group to leave the northern part of the Chittagong Hill Tracts.
In efforts to reach a deal with the government, on Thursday, June 9, 2022, the UPDF (Prasit) submitted a 66-page 87-point demand – in the form of a deal – to Author, Researcher Major (Retd.) Emdadul Islam, who is playing the mediator in the process.
Since the UPDF (Prasit) did it without any discussion with Santu Larma, a signatory to Chittagong Hill Tracts Peace Accord signed between the government and the Parbatya Chattagram Jana Sanghati Samiti (PCJSS), mostly known as JSS, it enraged the JSS causing a tension between them. Santu Larma is also chairman of PCJSS.
To resolve the tension, both the groups sat in a meeting on Friday, but that meeting ended without any solution.
The next day morning, Saturday, gunfights broke out between the two rival groups on Saturday (June 11) morning.
After JSS dens were reportedly attacked, both sides were engaged in gunfights. Since JSS members were stationed nearby for so long under a deal, it became easier for them to attack UPDF (Prasit) dens.
Asked, Panchhari Police Station Officer-in-Charge (Investigation) Mohammad Kamruzzaman said, "I have heard about the gunfights. Details are yet to be known as they have taken place in a remote hilly area."
Dighinala Police Station Officer-in-Charge Peer Ahmed could not be reached for comments, on the phone.