Rohingya child shot dead in Cox's Bazar camp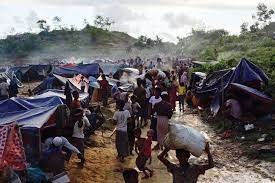 NEWS DESK
A Rohingya girl was killed and another injured by a group of unidentified miscreants in Cox's Bazar's Ukhiya camp.
The incident took place in Block H-52 of Balukhali Camp no 18 early Tuesday (Oct 04, 2022).
The deceased was identified as Tasfia, 8, daughter of Md Yasin, a member of the volunteer team in the camp.
The injured was Dil Kayes, 18, another resident of the camp.
According to police, a group of terrorists started firing indiscriminately at Yasin's residence and Darul Ulum Nadwatul Ulama Al-Islamia Madrasa, causing panic among the camp residents.
At this time, Tasfia and Dilruba were critically injured while trying to escape with their family members.
They were rushed to Cox's Bazar Sadar Hospital where the duty doctor pronounced Tasfia dead. Dil Kayes is currently undergoing treatment at the hospital.
Ukhiya police station Officer-in-Charge (OC) Sheikh Mohammad Ali said police and Armed Police Battalion (APBn) are conducting a joint operation to nab the perpetrators.
The body has been sent to Cox's Bazar Sadar Hospital for autopsy, the OC added.
Md Habib, a resident of Balukhali Camp No 18, said that armed miscreants opened fire at various places in the camp early in the morning.
On October 22, 2021, six people were killed in Darul Ulum Nadwatul Ulama Al-Islamia Madrasa. Before that, Mohib Ullah, the chairman of Arakan Rohingya Society for Peace and Human Rights, was shot dead in his office at Kutupalong Camp on September 29.