Rohingya recount atrocities as US official visits Cox's Bazar refugee camp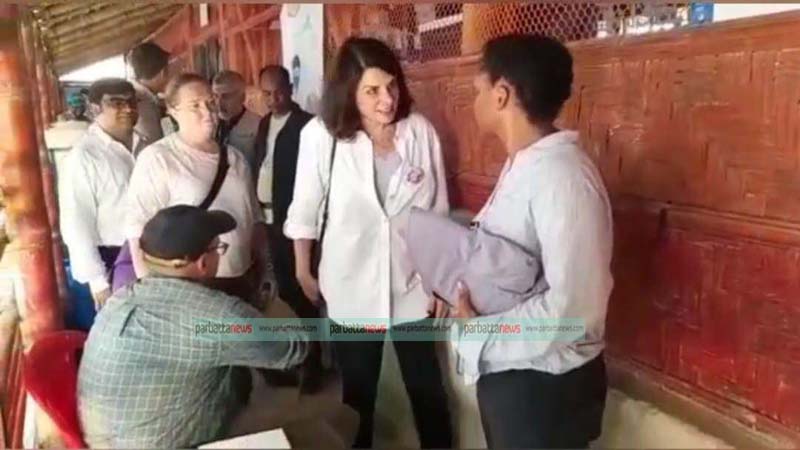 The US Assistant Secretary of State for the Bureau of Population, Refugees, and Migration, Julieta Valls Noyes, has visited the Rohingya camp in Ukhiya in Cox's Bazar to see the Rohingya situation.
She went to Kutupalong, the world's largest camp, by road from Cox's Bazar town on Monday (December 5) morning. A day before, in the afternoon, she arrived in the district town by air from Dhaka and stayed overnight at a five-star hotel next to the beach.
More than 900,000 Rohingyas who fled Myanmar's Rakhine state have been living in more than 20 camps around the Kutupalong camp for more than 5 years. Around 9:30 in the morning, the US Assistant Secretary of State's convoy arrived at the Kutupalong Rohingya camp. First, she visited the service centre at Camp 9. After visiting Camp 8W, Ms. Noyes spoke with 10 to 15 Rohingya refugees, men and women.
Rohingya leader Kamal Hossain said the US Assistant Secretary of State asked the Rohingyas how the environment was in the camp, how the security system was, and whether they would like to return to Myanmar, etc.
He quoted Rohingya as telling her that the Myanmar army had subjected them to atrocities such as brutal torture, arson, genocide, and persecution while they were in Rakhine state.
Simultaneously, they affirmed to her that they wanted to return to their homeland anyway. But before that, they must be recognised as citizens and resettled just where they had been living in Myanmar, according to the Rohingya leader.
The Rohingya requested that the US government intervene in this issue, Mr. Hossain said.
The US Assistant Secretary of State pledged to them that the US would play an important role in the process of repatriating the Rohingyas with dignity. The country would also provide humanitarian assistance to the Rohingya, the Rohingya leader said.
Ms. Noyes was accompanied by Khalid Hossain, Assistant Commissioner of the Office of the Commissioner for Refugees, Relief, and Repatriation.
From 9 a.m. to 1 p.m., the US Assistant Secretary of State visited various development projects and relief and medical care centres in the asylum camps. She talked to Rohingya men and women about various issues.
The US Assistant Secretary of State reached Cox's Bazar by road in the afternoon and returned to Dhaka by air.