Rohingya refugees rally for return to Myanmar on anniversary of military operation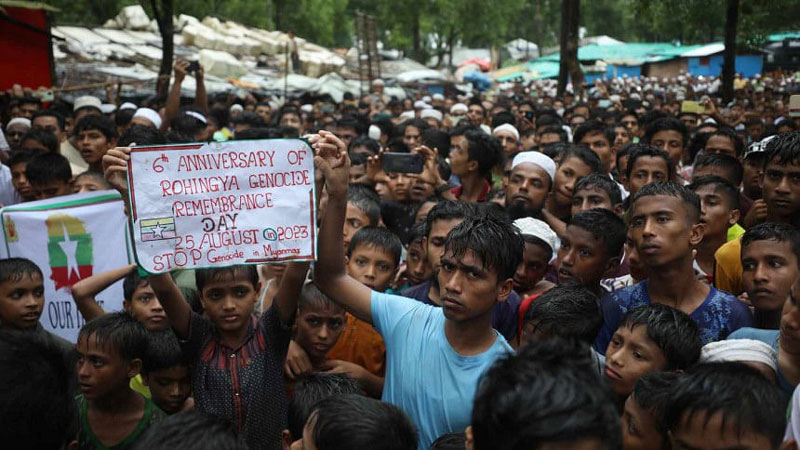 NEWS DESK
Displaced Rohingya Muslims numbering in the thousands have demonstrated in the refugee camps in Cox's Bazar to voice their call for heightened international pressure upon Myanmar's authorities, urging them to facilitate their return.
They expressed their demands through spirited slogans and organized marches within the camp on Friday (Aug 25), marking the anniversary of the commencement of a brutal Myanmar military campaign.
"Six years have elapsed since we fled our homes and took shelter in Bangladesh due to the tragic events of 2017. We cannot endure this any longer. Our aspiration is for a respectful repatriation process coupled with the full rights of citizens," said Mohammad Musa, a member of the Forcibly Displaced Myanmar National Representative Community.
"We left home and took refuge in Bangladesh because of the genocide in 2017. Six years have passed since then. We can't continue like this. We want dignified repatriation with full citizens' rights," said Mohammad Musa, a board member of the Forcibly Displaced Myanmar National Representative Community.
Musa delivered his remarks at a gathering in the Lombashia camp located in Ukhiya, where protesters had convened bearing placards inscribed with messages such as "We are Myanmar citizens by birth," "We want quick repatriation," and "Refugee life is not our choice," in English and their native language.
"Myanmar is giving excuses to delay our repatriation. If the repatriation does not start soon, we will go back to Myanmar much the same way as we came to Bangladesh," said Kamal Hossain, a spokesman for the FDMN Representative Community.
During the rally, Mohammad Zobayer, chairman of the Arakan Rohingya Society for Peace and Human Rights, presented a set of five demands.
These demands include an expeditious repatriation procedure, formal recognition of their ethnicity, establishment of secure zones, restoration of their land and other rights.
The refugees also united in seeking justice for the atrocities committed during the 2017 military operation, highlighting the need for accountability and retribution.
Amidst stringent security measures, the refugees offered prayers for a swift repatriation subsequent to the gatherings at Jamtoli, Moynar Ghoa, Leda, and various other locations.