Rohingya say no return to Myanmar without guaranteed citizenship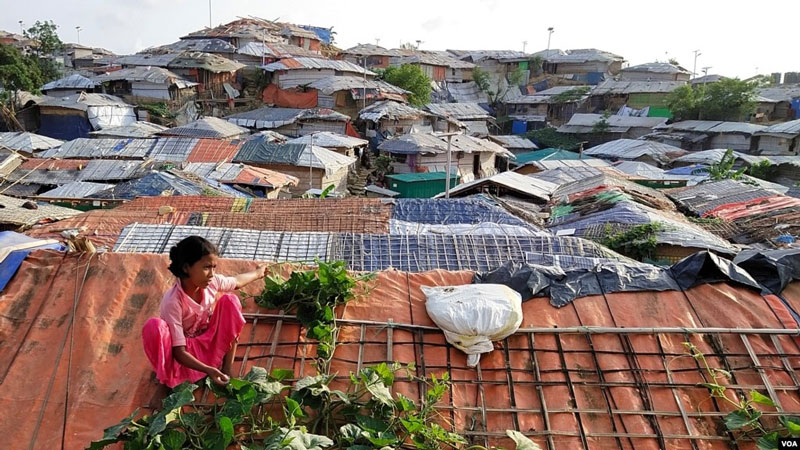 Members of Myanmar's Muslim Rohingya community living as refugees in Bangladesh are again voicing opposition to efforts to repatriate many of them. They say that the Myanmar government has not met their demands over citizenship rights and that it is not safe for them to go back to Myanmar's Rakhine state, VOA reports.
Those concerns come amid a plan for their repatriation to Myanmar in the coming weeks.
Following recent meetings in Naypyitaw with visiting delegates from Bangladesh's foreign ministry, Ko Ko Hlaing, Myanmar's minister for international cooperation, told state-owned media that 7,000 Rohingya from Bangladesh would be sent to Myanmar by December.
Twenty villages would be set up soon with plots for 1,000 houses to resettle more members of the community, the Myanmar minister said.
Members of the Bangladeshi delegation later told Bangladeshi local media the process of repatriation would start with 3,000 Rohingya in a first phase.
At the Myanmar talks, Bangladeshi officials said many Rohingya had refused to return home in the past because they had not been assured of restoration of their citizenship rights. In 1982, military authorities in Myanmar introduced a controversial law stripping the Rohingya of citizenship.
Mohammad Foyes, a 38-year-old Rohingya living in a camp in Bangladesh's Cox's Bazar, said that since 2018, the refugee community has conditioned their return to Myanmar on the restoration of those rights and other guarantees.
"But from the Burmese authorities, there is no assurance yet that we will get back our citizenship rights after we return. In such a situation, we do not feel safe to go back to Myanmar," Foyes told VOA.
Third attempt at repatriation
Fleeing persecution and violence in Myanmar, the Rohingya have for decades crossed over to Bangladesh, where more than 1.2 million of them live in congested shanty colonies.
After a brutal military crackdown in Rakhine state forced 750,000 members of the minority Muslim community to flee to Bangladesh in 2017, international pressure mounted on Myanmar to agree to take back the Rohingya.
Efforts to repatriate the refugees failed in 2018 and 2019 when the Rohingya said that the Myanmar authorities had not accepted the demand for citizenship rights. The latest effort to send the Rohingya refugees back to Myanmar stems from a China-backed initiative.
However, Nurul Kabir, a Rohingya refugee teacher in Cox's Bazar, said he and his neighbors in Bangladesh are not ready to go home because certain conditions have not been met.
"The Myanmar government has not agreed to our demands regarding citizenship rights, issuing national ID cards, returning confiscated properties, restoring the right to livelihood, allowing free movement and ensuring our security," Kabir told VOA.
"Unless Myanmar heeds our demands and convinces the global community and the U.N. of its commitment, no Rohingya will agree to return to Myanmar," he said.
Htway Lwin, a Cox's Bazar-based Rohingya community leader and human rights defender, said Myanmar authorities still count the Rohingya as "illegal immigrants."
"In the past, the Myanmar authorities wanted the Rohingya to accept the NVCs or the National Verification Cards," Lwin said. "All Rohingya rejected the NVC because it officially labeled us as illegal immigrants."
'No sign of restoration of citizenship'
"Before the repatriation, it is crucial that the junta assures us of the restoration of our citizenship rights, freedom of movement, religious freedom, education and, in essence, equal rights every other community enjoys in Myanmar," Lwin told VOA.
Mohammad Mizanur Rahman, Bangladesh's refugee relief and repatriation commissioner, said the Bangladeshi government cannot be blamed for the delay in the repatriation.
"In 2018, we handed over a list of over 800,000 Rohingya refugees to the Myanmar authorities for the purpose of repatriation," Rahman told VOA. "So far, they have verified only 100,000 of them and have agreed to accept around 20,000 of them without any hitch. The process of verification is very slow and even more complicated.
"The main demand of the Rohingya is to return to their own homes in Myanmar," Rahman said. "But the Myanmar authorities seem to oscillate between granting them this demand and refusing it. Sometimes they say one thing, sometimes the other."
Bangladesh is trying its best for a swift, successful and sustainable repatriation, Rahman said.
Phil Robertson, Asia division deputy director of Human Rights Watch, noted that "without offers of real human rights protection, full citizenship in Myanmar and the right to freedom of movement and livelihoods," the Rohingya refugees in the Bangladesh camps won't budge.
"The SAC [State Administration Council] military junta is fooling itself, and more cynically, trying to deceive the international community, by claiming that this offer of 20 more de facto internment camps for returning refugees changes anything at all in the repatriation dynamic," Robertson told VOA. "The bottom line is the Rohingya are not prepared to go, and nothing the Bangladesh and Myanmar governments try to do short of real rights reforms will persuade them otherwise.
"It's time for the international community to demand Myanmar get serious about offering full rights and return to their homes for the Rohingya refugees and stop playing games with these people's lives," he said.