Rohingya, Yemeni and Syrian refugees plead for help in Sudan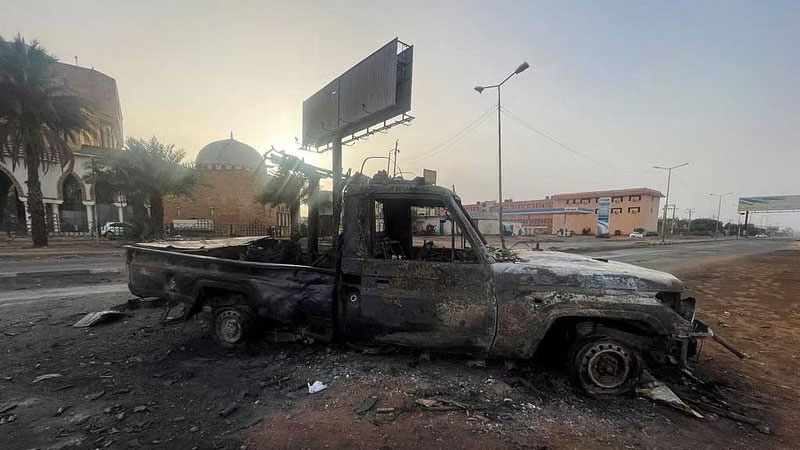 NEWS DESK

As evacuation flights in Sudan continue to take foreign diplomats and citizens back to their countries or to safety in third countries, many people, refugees included, are being left behind to fend for themselves, Al Jazeera reports.
Fighting continued to rattle various cities across Sudan despite an American and African push to extend a shaky truce between the Sudanese army and the paramilitary Rapid Support Forces (RSF) group.
The conflict between the two warring sides has so far left hundreds of people dead, closed down more than 60 percent of hospitals, and led to the displacement of thousands of people, according to various United Nations agencies.
Many Sudanese have fled to neighbouring Egypt or have been internally displaced. Vulnerable refugees who had sought safety in Sudan are now desperately looking to leave the country.
Videos circulating on social media platforms show Rohingya refugees as well as Yemenis and Syrians who are stuck in Sudan with no clear method of evacuation. One Rohingya family is seen appealing for help, with the father of a family – with two young children and a wife – saying that the "situation is very bad".
"We are fearful. We need a safe zone because here the situation is very bad, very heavy fighting," says the man, who was not identified. He is seen carrying a placard that reads: "Please help us."
After fleeing persecution at the hands of the military in Myanmar, Rohingya refugees find themselves in the midst of another conflict, with no state or body taking charge of evacuating them to safety.
The Rohingya are a mostly Muslim ethnic group who have lived in Buddhist-majority Myanmar for centuries. They have been denied citizenship in Myanmar since 1982, which has effectively rendered them stateless. Since the late 1970s, nearly one million Rohingya have fled Myanmar due to widespread persecution.
Students from Yemen are also stuck in Sudan, as their country remains embroiled in crises. A video on social media shows several students who say that the government has not provided any help.
"We, the Yemeni community in Khartoum, are appealing for help," says one of the students stuck in the Sudanese capital. "We, the students, are calling for help after living under constant bombings, warplane shelling and the sounds of bombardments".
The student said his group had asked for help from their government in Yemen, "but to no avail".
In Yemen, negotiations are currently continuing between Saudi Arabia and the Houthis to find a deal to end the conflict there, which began in 2014.
Another video reportedly shows a group of Syrians who have been stuck for days without an official response to their calls for help.
A man, who was not identified, is heard saying that the numbers of Syrians who had gathered with him was increasing by the hour. "We are waiting for the Saudi consul to arrive to help us with the evacuation," he says.
Saudi Arabia was one of the first countries to announce evacuations of its stranded citizens from Sudan, as well as "several nationals of brotherly and friendly countries", according to the Saudi foreign ministry.
The conflict in Syria began 12 years ago, when protesters took to the streets to demonstrate against the country's government and President Bashar al-Assad.
The protests quickly took on a revolutionary nature, demanding the "fall of the regime", but, after a brutal crackdown by the government, the uprising transformed into a war, dragging in several outside powers, displacing millions and killing hundreds of thousands.
Syria's economy has deteriorated, with 90 percent of the population now living below the poverty line, according to the World Food Programme.