Rohingya youth confesses to killing four refugees in video message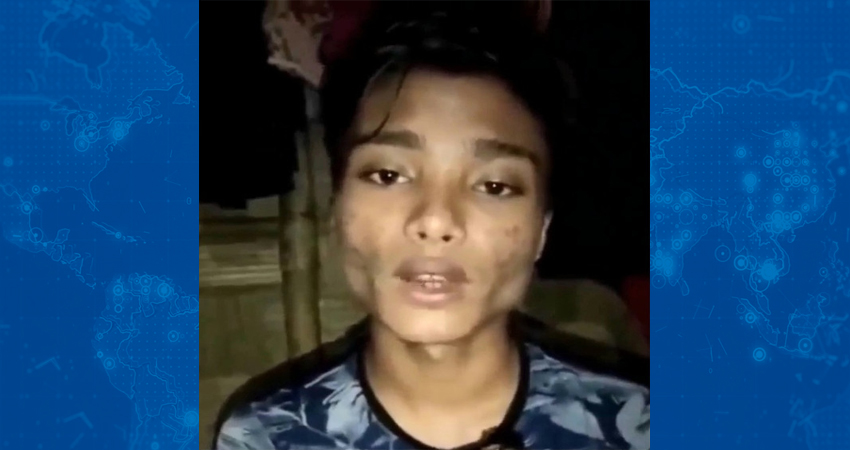 DESK REPORT
A young man named Md Hashim (21) described how four majhis (leaders) of the Rohingya camp in Ukhia of Cox's Bazar were killed and on whose instigation.
In a video, which has gone viral on social media Facebook, he is seen holding a weapon and describing how one of the four men was killed.
In the video, he claimed that a terrorist organisation named Mahaz had given weapons to 25 youths like him involving the killing mission.
In the video, Hashim said, "The mission of killing was implemented in exchange for a huge amount of money. Our main task was to kill those who work on repatriation. In five to six days, we killed three Rohingya majhis (leaders) and a volunteer."
The young man also named the four death victims of the killing mission — Jafar, head majhi of camp 18 in Ukhia, Ismail of camp 7, Ershad and headmajhi Azimullah of Kutupalong Extension Camp-4H Block.
In a video message, Hashim also named four spokespersons of the terrorist organization Mahaz – Custodian Shahab Uddin, Rahmat Ullah, Head Majhi Bhuiyan and Moulvi Rafiq.
He said that those spokespersons would lead the organization.
Hashim, however, said that he had realised that his being involved with the terrorist activity was a mistake and would now like to return to normal life.
Faruk Ahmed, additional superintendent of police of the 8-Armed Police Battalion (APBN), who is in charge of the Rohingya camp, said, "Action will be taken against those named by the Rohingya youth in the video upon investigation.
"We are always alert to the safety of the camp. "