Rohingyas hold 'go back home' campaign, place 7-point demand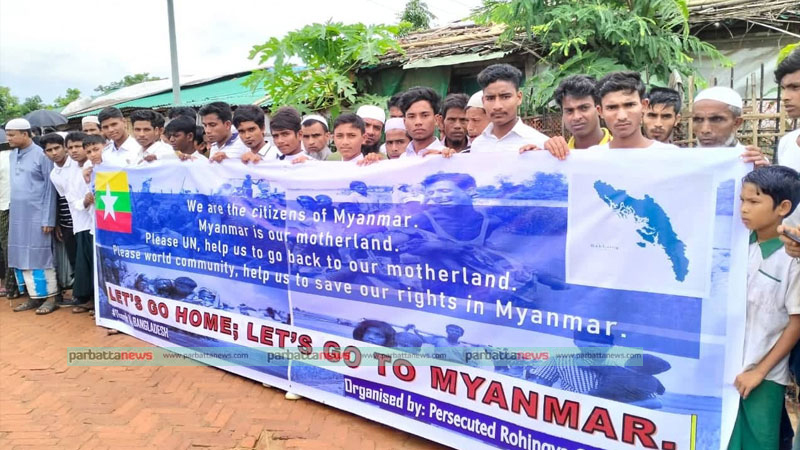 TEKNAF CORRESPONDENT
Thousands of Rohingyas have held a 'go back home' campaign staging rallies at different camps of Cox's Bazar.
As part of the campaign, they staged a mass rally at Teknaf's Shalbagan on Sunday, June 19, 2022.
In Ukhiya, they conducted their campaign from 11 venues of 15 camps from 8am to 11:30am.
Around 10,000 Rohingyas from different camps in the district took part in the entire campaign.
During the campaign, they announced a seven-point demand for returning home.
Badrul Islam, Abul Kalam, Dr. Jobayer and Nurul Amin, representatives of the Rohingyas who participated in the campaign, spoke at the campaign.
They said they have been facing persecution by the Myanmar government even though Myanmar is their motherland.
Since 1978, the Rohingya representatives said, they have been subjected to regular torture, rape and murder, as well as the burning of their villages and homes.
In 1978, 1992, 2012, 2016 and 2017, the Myanmar government carried out similar atrocities against them, the Rohingya representatives said.
Having been thrown out by Myanmar, they added, they took refuge in different countries, including Bangladesh.
In 2017, in the face of the genocide, the Rohingya representatives said, about 11 lakh of them, having been thrown out from their country Myanmar, took refuge in Bangladesh.
They expressed gratitude to Bangladesh government for giving them refuge in the country.
They also thanked the United Nations and other relevant agencies for providing them with food, shelter and other support.
Various agreements were signed during 2017-2018 with the assistance of the US and China, but no visible progress has still been made in repatriating them home, they said showing the frustration at this.
"How long will we be homeless?"they demanded to know.
"We don't want to be homeless anymore. We are deeply concerned about the future of ourselves and our future generations!" they said.
They reiterated that they want to return to Arakan, their motherland in Myanmar, and stay there as citizens with the fair rights.
The Rohingyas who took part in the campaign also appealed to all world leaders and communities to step in so that they can go back home with full rights.
During the campaign, the Rohingyas presented a seven-point demand for repatriating them home, namely,
1.  Immediate start of the Rohingyas' repatriation to Myanmar
2. Repeal of the Citizenship Act of 1982
3. Immediate rehabilitation of Rohingyas in their own villages in Myanmar
4. To ensure the rights, security and safety of Rohingyas in Myanmar
5. To complete the repatriation process within the stipulated time
6. To close IDP camps in Rakhine State and rehabilitate Rohingyas in their villages in Myanmar
7. and to stop the persecution of innocent people in Myanmar.
During the campaign, law enforcement personnel including APBN members visited Rohingya camps and campaign venues, said Teknaf 16 Armed Police Battalion Commander (Superintendent of Police) Tariqul Islam Tariq and Ukhia 14 Armed Police Battalion Commander (Superintendent of Police) Naimul Haque.
Rohingyas from Old Camps Didn't Take Part in the Programme
The Rohingyas from old camps didn't take part in the 'go back home' campaign. Numbering about 35,000, they have been staying in the two registered camps at Noapara in Teknaf and Kutupalong in Ukhiya since 1991-92. They consider themselves as registered refugees.
They also do not believe in the same status of the Rohingyas who came to Bangladesh in 2016 and 2017.
A resident of the Noapara registered camp, seeking anonymity, said, "If Rohingyas had not come to Bangladesh anew, we would have had a solution by now – be it by giving us citizenship or by sending us to a third country."
Another Rohingya said that the Rohingyas who stayed back in Bangladesh in 1991-92 speak Bengali and English. They do not know Burmese language. And so they are not interested in returning to Myanmar and stayed away from the 'Go Back Home' campaign.
Bangladesh has banned Rohingyas from holding rallies since they staged a massive 100,000-strong protest in August 2019.
But authorities allowed several groups of Rohingyas to stage the "Go Back Home" campaign on Sunday, June 19, 2022, ahead of World Refugee Day today, Monday, June 20, 2022.