Role of headmen in maintaining CHT's peace and order is immense: Brigadier Ziaul Haque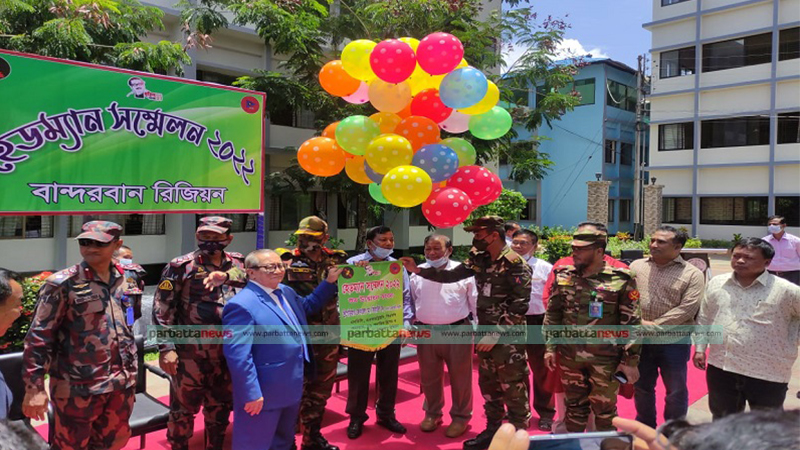 BANDARBAN CORRESPONDENT
Bandarban Army Region Commander Brigadier General Md Ziaul Haque has said the army is working tirelessly for the country and their contribution remaining at the forefront has set a remarkable example, underscoring the need for the army's contribution in the Chattogram Hill Tracts.
He was addressing as the chief guest at the Headmen's Conference 2022 held at Bandarban Cantonment Public School and College Auditorium at 11 pm on Thursday (June 30), which aims at maintaining cordial relations as well as establishing happiness, peace and prosperity in the hilly regions.
All headmen should come forward and extend all necessary assistance to the army as well as to the administration for the sake of the peace and order, and development in the hill tracts, the brigadier general told the conference organised by the Bandarban Army Region.
Bomang Circle Chief and President of the Headmen Association Engineer Wu Ch Pru, DFI Captain Col. ABM Farukuzzaman, Sadar Zone Commander Lt. Colonel Mahmudul Hasan, Balipara Lt. Colonel Khandaker Md. Shariul Alam, Alikadam Zone Commander Lt. Colonel Md. Manzurul Hasan, Nayksyangchari BGB Zone Commander Lt. Colonel Md. Rezaul Karim, Ruma Zone Commander Lt. Colonel Hasan Shahriar Iqbal and Bandarban Cantonment Public School and College Principal Colonel Sirajul Islam attended the conference as special guests.
A total of 90 headmen of 95 mouzas of Bandarban district, as well as Bandarban Sadar Upazila Parishad Chairman AKM Jahangir Alam, Alikadam Upazila Parishad Chairman Abul Kalam and Roangchari Upazila Parishad Chairman Chahai Maung, were present on the occasion.
Headmen Purna Chandra Mro, Hlathoihari Marma, Sathwai Pru, Monkaching Marma, Shaihlaching Basui and Mangnu Bhagyachandra Tripura spoke on the occasion.
While speaking at the conference, Bomang Circle Chief Wu Ch Pru praised the army and the prosperity of the hilly region is due to the tireless hard work and efforts of the army. It is the hill people's responsibility to extend maximum cooperation to the administration in all spheres.
He assured allout cooperation.