School Life in the Crosshairs of Myanmar Junta's Warplanes and Gunships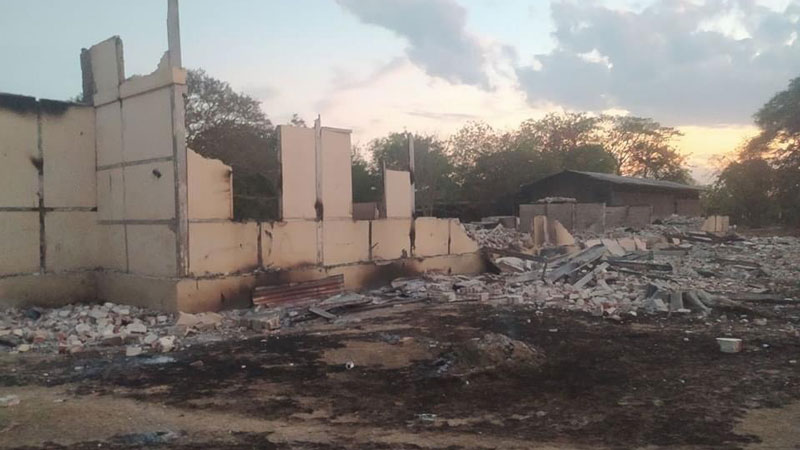 Thwe The is a 16-year-old girl studying in grade 10 at a school run by the parallel civilian government in the resistance stronghold of Sagaing Region, where villages have suffered repeated attacks by junta warplanes and ground troops since the 2021 coup, The Irrawaddy reports.
Every day, students in Sagaing risk their lives in pursuit of education as junta forces continue to pound civilian targets including schools, monasteries and clinics.
"We are always on alert because we are afraid of warplanes. We don't have bomb shelters at our school," she said.
Following the 2021 military coup, nearly 80 percent of Myanmar's 10 million students boycotted the regime's education system. After the civilian National Unity Government (NUG) was formed in April 2021, its ministry of education set up 300 township-level education boards to provide basic education in areas where the regime had lost control to the resistance.
The boards used NUG guidelines to open schools, where volunteers and teachers from the civil disobedience movement (CDM), a nationwide strike by civil servants in protest against military rule, provide basic education.
Schools in Sagaing come under the NUG's education ministry guidelines.
Rural communities in resistance strongholds mainly rely on NUG schools for basic education, according to sources.
"I want our daughter to finish basic education, but I won't send her to a junta school. No one goes to their schools in our areas," Thwe Thwe's mother said.
However, both students and teachers at NUG schools know they can be targeted by junta warplanes at any time.
A volunteer teacher from Yin Paung Taing village in Yinmarpin Township told the Irrawaddy that students and staff still suffer from mental problems after experiencing horrific air raids.
"We are in constant fear and the children can't concentrate fully on their studies or enjoy their lives at school," he said.
In August last year, at least 20 people including a 17-year-old student died in Yin Paung Taing when junta helicopter gunships attacked the village.
"It took nearly three months to resume classes after our village was hit by the deadly airstrike. Even the cows and the dogs are scared when they hear the sound of aircraft in the distance," he said.
In another incident, seven children were killed in an airstrike when junta gunships strafed a school in Let Yet Kone village, Tabayin Township in September 2022.
In May and early June this year, junta warplanes conducted at least six airstrikes in Sagaing and Karen and north Shan states, killing eight civilians and injured another eight, including three children.
Apart from safety issues, teachers also expressed other concerns over insufficient funding and staff shortages at schools in resistance strongholds, which rely on local communities for financial support.
Myo Kyaw is a teacher currently working at a school in Wetlet Township after he joined the civil disobedience movement in 2021.
"Most of the schools are facing the same challenges. We received only 100,000 kyat from the NUG throughout last year. We used it to purchase teaching materials and stationery for the students," he said.
The main financial support for each school comes from tuition fees and donations paid by local communities, according to sources.
"The monthly fee is 15,000 kyat for a high school student and 7,000 kyat for middle school students," a student in Yinmarpin Township said.
Sources say the NUG struggles to provide teaching equipment and salary for volunteers and CDM teachers.
The Irrawaddy contacted the NUG's Ministry of Education for comment but had received no reply as of press time.
In Khin-U, where half of the township has been burned to the ground by junta troops, students have no choice but to study in village houses because they fear junta airstrikes on schools.
A CDM teacher said that junta troops destroy blackboards, furniture and even burn down the house if they discover it is being used as an NUG school.
"We face many difficulties. Some people do not want us to use their homes as classrooms because they worry that junta forces will set them on fire," he said.
Junta forces have also banned the distribution of textbooks and teaching materials to resistance strongholds.
Yet, students in Sagaing say they are still eager to complete their basic education.
"I want to finish my education because I don't want to be one of those empty-headed people", said a student from Wetlet Township, referring to the generals who overthrew the civilian government in February 2021.
As for Thwe The, the 16-year-old schoolgirl said her ambition was to become a volunteer teacher and teach primary school students in her village.
(All names have been altered for safety reasons.)