Shelling resumes in Myanmar frightening Bangladeshi residents along the border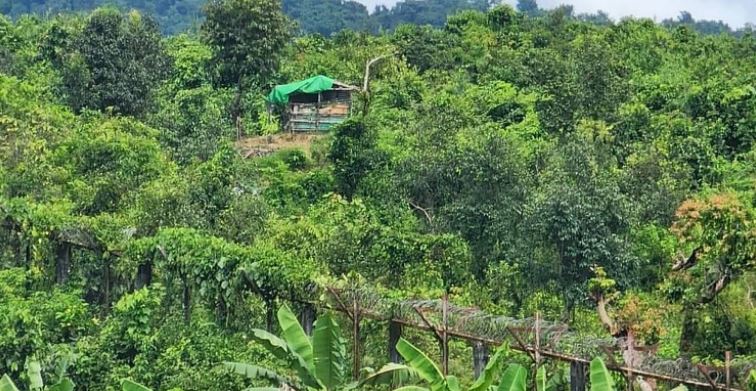 NEWS DESK
The residents of Naikhyangchari in the bordering areas of Bandarban district were in a panic as the fresh sounds of firing and shelling of artillery and mortars were heard from inside Myanmar.
The shelling resumed on Sunday night (Oct 9, 2022), after a break of 11 days, causing panic among several thousand villagers in Ghum Dhum union under Naikhyangchari upazila of Bandarban and neighbouring Cox's Bazar districts.
Two mortar shells landed near the border on Tuesday afternoon (Oct 11, 2022), Ghum Dhum union parishad chairman AKM Jahangir Aziz said.
He said that the sound of firing had been heard since Sunday night and it continued till Tuesday.
Panicked over mortar shell firing, several thousand people living near the border have left their homes and taken shelter elsewhere, Jahangir said.
Several thousand Rohingya people forced to leave their homes in Myanmar's Rakhine state have been living on the zero-line along the Tombru border under Gum Dhum since August 2017.
Sirajul Mostafa, a member of ward no.2 of Whykong union parishad under Teknaf upazlia of Cox's Bazar, said that they had spotted flying choppers in Myanmar airspace on Tuesday morning and heard repeated shelling on Monday night.
Local representatives said that they had informed the district administration about the shelling incidents.
The mortar shell firing continued amid the visit of the Border Guard Bangladesh director general, Major General Shakil Ahmed, to the area on Monday (Oct 10, 2022).
He said that they were trying to hold a senior-level meeting with their Myanmar counterpart to maintain peace and tranquility along the international border.
Talking to local journalists in Ghum Dhum, the BGB chief said that Myanmar had already agreed to hold battalion-level talks and that it would be held at any time convenient for both countries while the process of holding another high-level meeting was underway.